Team 1675 is proud to present our creation for 2020, MANTIS.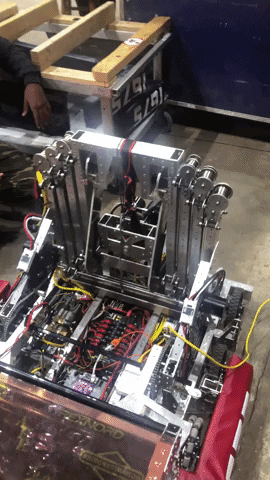 Mantis is a low goal specialist with an everybot-inspired intake/arm, and a spring-extended, winch climber.
Drivetrain
— 6 wheel west coast drive powered by 4 Rev Robotics NEOs
— WCProducts 3 CIM Single-Speed Gearboxes geared for ~18FPS free speed 14FPS loaded
— 4 AndyMark Hi-Grip Wheels (Back and Center), 2 6" VexPro Omnis
Intake
— Upgraded Everybot Intake
— ~27.5 inch wide effective intake width allows allows 3 balls to be stored side-by-side to unload quickly into the low goal
— 3 Powered Rollers with a total of 39 AndyMark Stealth Wheels
— Rollers powered off a custom gearbox built into the side-panel of the arm to turn each roller the correct direction for intaking and output power cells using only a single motor
— Powered by BAG Motor through a 10:1 VersaPlanetary Gearbox
Arm
— Driven by 2 WCProducts SS Rotational Gearbox each powered with 1 NEO
— Additional 16:72 external chain reduction for a total of 112.5:1 total reduction
— 3 defined positions for ground pickup, human player loading, and scoring controlled utilizing Rev Robotics Though-Bore encoders in absolute mode
— Optional custom friction brakes inspired by 971 and 2102 (currently not installed/needed)
Climber
— Greyt inspired 4-stage elevator to reach a height of 72"
— Fully passive extension using 3 sets of constant force springs with ~64 lbs of total force
— Torsion spring controllled hook release, retrained by climber geometry
— Total extension time of <1 second
— Dual pneumatic release to allow dog-shifter to disengage under no load, as well as provide redundancy to prevent unintended activations
— Winch powered by 2 NEOs through a WCProducts 2-CIM Dog Shifting gearbox, with no high-speed gearing to provide a neutral shifting position
— 3/8" ratcheting box wrench built into gearbox to prevent backdrive
Color Wheel Manipulator (Future addition)
— 3 AndyMark Compliant Wheels powered by BAG motor through 25:1 VersaPlanetary gearbox
— Extended to height using 2 3/4"bore 6" stroke pneumatic cylinders
— Custom slides using 1/16" delrin strips to provide bearing surface
Though we're a little late for the #openalliance, we've still made our CAD publicly accessible in onshape. Feel free to reach out with any questions
Mantis will be competing at the Midwest and Wisconsin regionals.