Immediately after the world championship this year, some members of team 1787 were celebrating in downtown Cleveland, Ohio. While we were celebrating we witnessed a rabid chihuahua break into a beet farmer's field and eat every. single. crop.
Now that gave us an idea like no other.
We immediately ordered 4 SDS MK4i swerve modules and went to work. In just a few short months we had a robot assembled, ready to play defense, but there were additional features we still needed to add.
Our programmers love autonomous, so we felt as though we OWED them a way to score points in autonomous. After extensive testing with an air compressor, we concluded that a pneumatic cylinder can indeed launch cargo.
With a three second autonomous routine under our belts, we were feeling pretty good about our robot's capabilities, yet we were still worried about our lack of a camera on the robot, we had made no mount for it. The solution came in my large collection of woolly mammoth stuffed animals.
A thing people often forget about children and stuffed animals is that they can get quite attached to the stuffed animal, and if the child is creative enough, they can believe it is even alive and can communicate with them!
All we needed to do was get drivers who had a rich childhood full of lots of stuffed animal-related experiences. We discovered that those people were the quickest to form a telepathic bond with the mammoth which after extensive testing (which will be detailed in a soon to be released team 1787 white paper), we learned that drivers who have a telepathic bond with the woolly mammoth were able to control the robot better than our control group that did not experience the mammoth.
Now that I've explained the thoughts behind some major features of our robot, I think it's a good idea to show a photo of 1787's newest robot, Noodle!!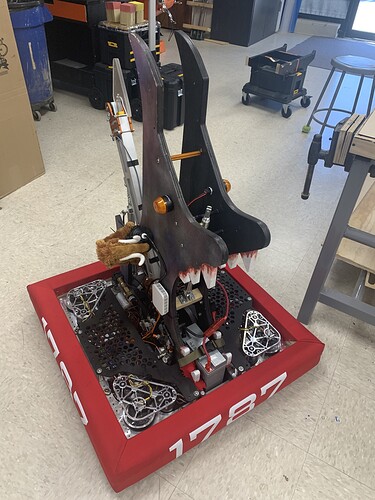 Noodle is capable of a single shot into the upper hub as well as a full traversal climb in addition to the obvious ability to play defense. Truly an amazing robot.