So I decided to design a custom ~2" mecanum wheel to be 3D printed as a CAD exercise. It uses two M3 bolts in order to attach both parts of the wheel together, and an M3 bolt as a shaft for each roller. Overall dimensions are ~53mm (2.1") OD, 24mm (0.945") thick.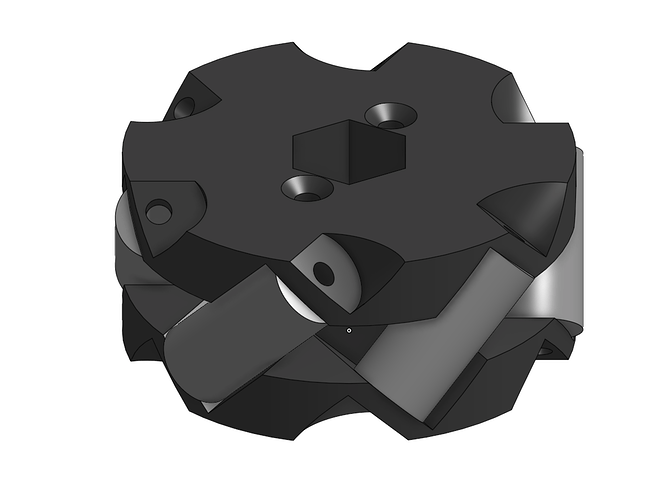 I had two main objectives with this design: to (somewhat) learn how to use OnShape - as I'm a SolidEdge user but I also use a MacBook, and to design the wheel so that it could be printed without supports - this is because all of the other designs I saw on CD/Thingiverse require some kind of support in order to print them.
You can see the design here: https://cad.onshape.com/documents/2ab0ac6d17bf9f7010650432/w/d86e3bbc6f3e2f5e7af8cdc3/e/7b4f489c9972a7f3818a8641
I finished printing the previous revision a few minutes ago on my Prusa i3 MK2, and it looks pretty promising IMO: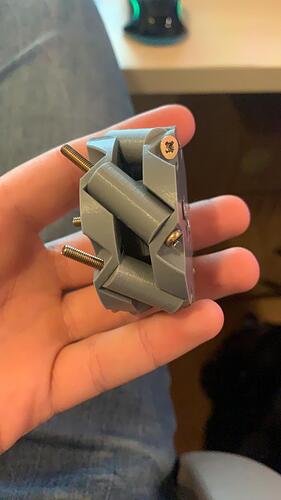 The Prusa handled it pretty good, since everything is 45 degrees and there isn't much overhang. The total print time per wheel is about 3 hours. Both the top and bottom parts took 1hr each and the 6 rollers took about 1hr altogether, although this was printed with only 2 perimeters (in order to save material and time).
I'm looking forward to testing this with an actual motor. A possible improvement would be to replace the M3 bolts with M2.5 for weight savings. Another one I thought of is using lathed, non-printed rollers like in the TTB wheel, maybe with heatshrink/surgical tubing over them for improved traction.
Would love to hear your feedback about this little project