The original plan for 1086's "2021 season" was to have an internal competition between the seniors and the rest of the team. We had chosen the 2011 game for this competition. These plans ended up falling through due to a variety of reasons. However, since the seniors on 1086 didn't get an opportunity to build a (new) competition robot for 2021, we ended up still building out our robot for fun, cuz why not to test out new mechanisms/drivetrain for the future.
Presenting: Cheez-it (Previously named Halloumi)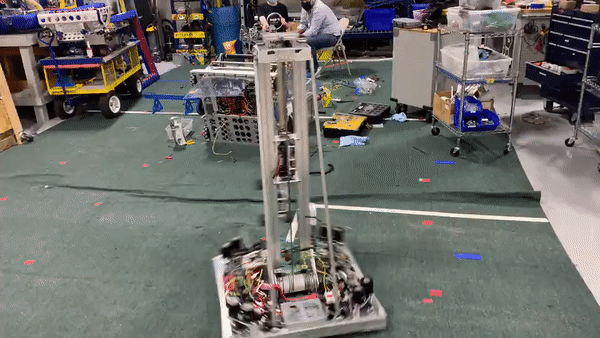 Drivetrain:
SDS MK3 modules with fast gearing, NEOs, and billet wheels.
Combination of pocketed 0.125" and un-pocketed 0.0625" wall square tubing.
Elevator:
Two stages.
Continuously rigged.
CF spring balancing the carriage. (For lower current draw when placing on the low and middle peg, available mounting option to balance the entire elevator as well if needed. [If we were going to compete this we would balance the entire elevator to allow for consistency, hopefully making it easer to program.])
0.0625" wall square tubing used for all the stages.
Combination of (aluminum) CNC milled and (PLA) 3D printed bearing blocks.
Calculated bottom-top travel time: < 0.4 seconds. (Accounting for acceleration).
Powered by two NEO motors.
Return rigging line is spring loaded to maintain tension when the length of the run changes. (Due to the change in the fleet angle as it spools/de-spools).
0.125" Dyneema rope used for rigging.
Arm:
Pocketed 1.75"x1.75"x0.125" square tube. (Partial and full depth pocketing).
Gearbox is packaged in the carriage (3.75" wide).
126.11:1 Reduction.
Four Stage gearbox. (Axles shimmed to reduced backlash).
Absolute encoder on the final stage of the gearbox.
Powered by a NEO 550.
Intake
Independently powered top/bottom rollers to allow for rotation of the inner-tubes.
Powered by NEO 550s.
3D printed intake roller wheels. (Covered with neoprene rubber).
Pneumatic actuation giving the option to not "outtake" the inner-tubes (Counter rotating the roller wheels to spit it out). This allows for the tubes to be "placed" rather than "spit-out."
There are a lot of features I didn't cover so I would be happen to answer any questions. (Someone should also ask @jackoleary about the milled bearing blocks and their fixturing [check out the photos]

).
Something something emperor swerve x 254…
Designed by: @Casey_Gormley
Built and Fabricated by: @Clevkev, @jackoleary, @Casey_Gormley
Programmed by: James Farnsworth.