I've been playing around with Gephi and decided I should make a graph for FRC. I set it up so that each node is a team, and every connection is a regular season playoff match in which two teams played together between 2016 and 2019. Sizes of nodes represent the number of unique playoff partners a team had during this period. Thickness of edges represent the number of playoff matches in which the teams played together. The visual graph was made using a Yifan Hu Layout, and the nodes are seperated into colors based on their modularity class. Here is the whole network (can't see much detail this way):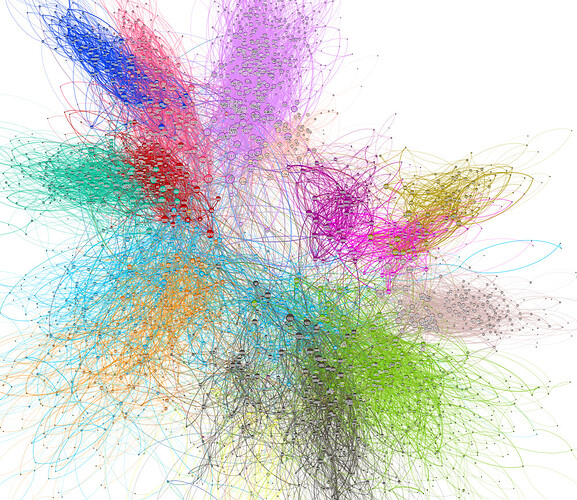 And here is a zoom-in on the FMA region: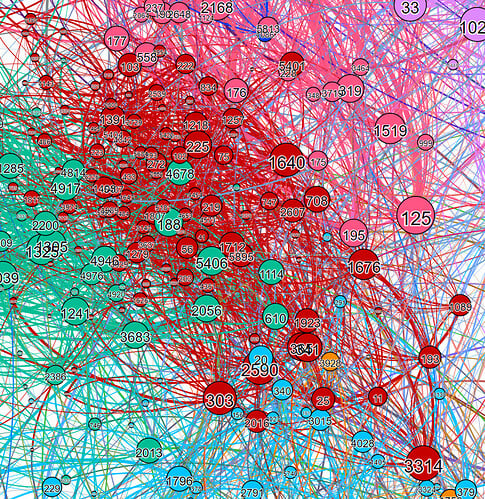 If you want to see more detail, you can do so here (Note that this is a massive display with a lot of whitespace around the edges, you will probably have to either zoom out and/or navigate to the center to see it).
I find this graph really fun to explore, and I encourage you to do the same. Look around a bit and try to find your team. If you need some help figuring out where you might be, take a look at my spoiler tag below.
Map Key
Just a fun project to get me playing with a cool new tool. If people have suggestions on other graphs I could make I'm all ears.