Why shut the local FRC events down and not the athletic contests?
Maybe because local FRC organizers understand the situation better than the athletic contest organizers.
Anyone have an excel spread sheet of all the FRC events remaining and canceled?
See post 1 of this thread.
This is such a great year to have no bag
The Michigan High School Athletic Association's stance as of 6:30 pm: Here
Tl;dr, as of right now: events are happening, but no spectators.
I think Canada will finish up however I really can't see world's happening. I think First will allow Ontario to finish up as well as the few other unaffected districts plus regionals.
Note that the paragraph above reads that "Decision on events that will be held at the Wolstein Center will be announced by the sponsoring organizations."
The Buckeye Regional is planned to take place as scheduled. Source: https://www1.grc.nasa.gov/frcbuckeye/
I was thinking about this too, but an athletic event without an audience has significantly smaller exposure than an FRC event. Look at the 250 person limit out West. Let's say there are 40 teams. If each team brought 6 people that would leave room for only 10 officials. CT has limited their events to 100 people.
Yeah, I was more putting it out there as an example of athletic associations actually taking the virus seriously. Valid point though for sure.
I am writing to share the hugely disappointing news that as a result of the evolving Covid-19 situation and the recent announcement by the UNC system to ban all events greater than 100 people on any UNC campus, the ECU and the UNC Asheville District Events have been postponed. The new dates for the ECU and UNCA District Events have not yet been set, though it will occur after the FIRST Championship in April.
We recognize that teams have put an enormous amount of work into preparing for this event, and we regret having to share such disappointing news. We are working closely with FIRST to determine the best way forward for all of our teams during this challenging time.
Please stay tuned as we continue to assess the situation and make determinations on how best to proceed. The health and safety of our teams and volunteers is of utmost importance to us.
Stay healthy!
Marie
ECU and UNC Asheville have been postponed in NC
First should bring back the bag. Everyone bag your robots, and we compete when this all blows over.
PNW has all but confirmed that this will not be happening, at least for the foreseeable future.
PCH update: COVID-19 (Coronavirus) Update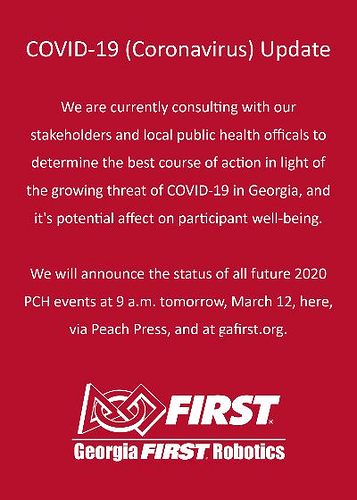 Update from Georgia First
Georgia FIRST teams:
We are currently consulting with our stakeholders and local public health officials to determine the best course of action in light of the growing threat of COVID-19 in Georgia, and it's potential affect on participant well-being.
We will announce the status of all future 2020 PCH events at 9 a.m. tomorrow, March 12, here, via Peach Press, and at gafirst.org.