FIRST Team 1511 will be hosting a Chairman's Boot Camp taught by Steve Hyer on August 6th and 7th from 9AM to 5PM.
Steve has mentored many teams in FIRST as well as Hall of Fame Team 27-Team RUSH on Chairman's and FIRST Advocacy.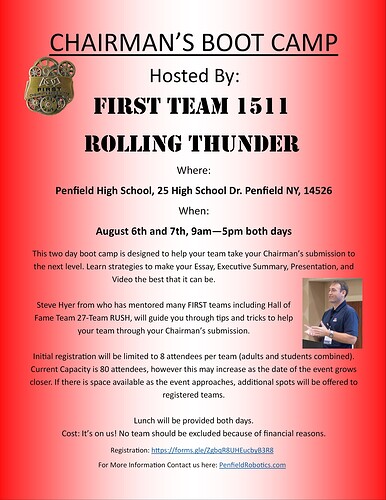 This two day boot camp is designed to help your team take your Chairman's submission to the next level. Learn strategies to make your Essay, Executive Summary, Presentation, and Video the best that it can be.
Initial registration will be limited to 8 attendees per team (adults and students combined).
Current Capacity is 80 attendees, however this may increase as the date of the event grows closer. If there is space available as the event approaches, additional spots will be offered to
registered teams.
Lunch will be provided both days!