Backstory
The 2022 driver station includes a panel of 17 LEDs. The LEDs reflect the Cargo status, match status (teleop/auto/clear field), and the quintet status. For more information on how it specifically works, refer to the game manual.
Additional discussion has occurred in the following thread which is a good read:
Interactive Dashboard
We created the following site to help understand and visualize the LEDs based on game state:
fms.valor6800.com
A screenshot of the site is as follows: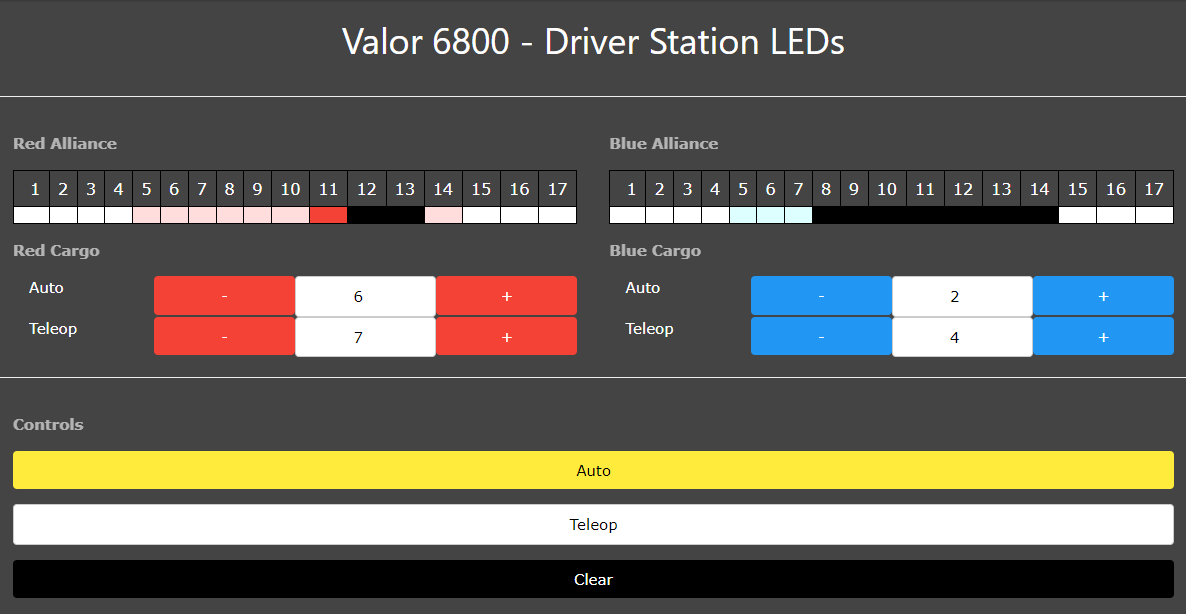 How to use it
Use the buttons to increment/decrement the cargo count for auto and teleop. This will change the table to reflect the score.
Selecting Auto/Teleop/Clear in the Controls section will put the lights in the corresponding match status.
An example match flow:
Click 'Clear'. Allow your students to enter the field, setup the robot, prepare for autonomous.
Simultaneously press 'Auto' on the web dashboard and 'Enable' on your driver station in practice mode
Increment the ball count in Auto
When the buzzer sounds for Teleop, click the 'Teleop' button
Increment the ball count in Teleop
At-Home Utilization
Our version of the site will directly control LEDs in our driver stations via a raspberry pi. The idea would be our technician utilizes the site while we are running practice matches so the drivers get instant, direct feedback in their booth. The architecture is as follows:
Raspberry pi hosts the html page that you see when you go to fms.valor6800.com
Raspberry pi is connected over wireless to the robots wireless access point
Raspberry pi sits on the driver station and is connected to an LED strip
User connects their laptop to the robot's AP
User navigates to the IP address of the raspberry pi in their browser, which renders the html page
Changes in the LED tables directly modify the LEDs on the driver station
If you want the system, let me know. If there is desire for it, we can create some scripts/documentation to deploy the system to your own raspberry pi.