41 RoboWarriors Warren, New Jersey
115 MVRT Cupertino, California
340 G.R.R. (Greater Rochester Robotics) Churchville, New York
359 Hawaiian Kids Waialua, Hawaii
836 The RoboBees Hollywood, Maryland
1218 SCH Robotics Philadelphia, Pennsylvania
1293 Pandamaniacs Columbia, South Carolina
1468 Hicksville J-Birds Hicksville, New York
1511 Rolling Thunder Penfield, New York
1902 Exploding Bacon Orlando, Florida
1923 The MidKnight Inventors Plainsboro, New Jersey
1939 THE KUHNIGITS Kansas City, Missouri
1987 Broncobots Lees Summit, Missouri
2016 Mighty Monkey Wrenches Ewing, New Jersey
2199 Robo-Lions Finksburg, Maryland
2212 The Spikes Lod, HaMerkaz
2338 Gear It Forward Oswego, Illinois
2341 Sprockets Shawnee, Oklahoma
2471 Team Mean Machine Camas, Washington
2478 Westwood Robotics Mesa, Arizona
2531 RoboHawks Chaska, Minnesota
2834 Bionic Black Hawks Bloomfield Twp, Michigan
2869 Regal Eagles Bethpage, New York
3075 Ha-Dream Team Hod-Ha'Sharon, HaMerkaz
3197 HexHounds Cedarburg, Wisconsin
3310 Black Hawk Robotics Heath, Texas
3374 Jackson Hole RoboBroncs Jackson, Wyoming
3539 Byting Bulldogs Romeo, Michigan
3636 Generals Portland, Oregon
4013 Clockwork Mania Orlando, Florida
4020 Cyber Tribe Kingsport, Tennessee
4143 MARS/ WARS Metamora, Illinois
4265 Secret City Wildbots Oak Ridge, Tennessee
4451 ROBOTZ Garage Laurens, South Carolina
4481 Team Rembrandts Eindhoven, Noord-Brabant
4488 Shockwave Hillsboro, Oregon
4593 Rapid Acceleration Rapid City, South Dakota
4607 C.I.S. Becker, Minnesota
4775 Aztech Robotics Mexico City, Mexico
4795 EastBots Chapel Hill, North Carolina
4829 Titanium Tigers Chapel Hill, North Carolina
4930 Electric Mayhem Buffalo, New York
5437 Rocky Balboabots Booneville, Arkansas
5827 Code Purple Kirkland, Washington
5895 Peddie Robotics Hightstown, New Jersey
5900 Career Blazer Robotics - The Fighting Mongooses Dalton, Georgia
5913 Patriotics Pequot Lakes, Minnesota
5940 BREAD Redwood City, California
6800 Valor Austin, Texas
6838 X-SHARC ÇEKMEKÖY, Istanbul
6907 The G.O.A.T Shanghai, Shanghai
7419 QLS Tech Support Dublin, California
7483 Mechanically Challenged Viola, Arkansas
7485 Mo Co Robo Craig, Colorado
8717 Cyber Vipers Las Vegas, Nevada
8788 Special Forces BallistaBots Crestview, Florida
8853 Yukikaze Technology Sapporo, Hokkaidô
8861 06ANGORA ANKARA, Ankara
Roebling OPR Breakdown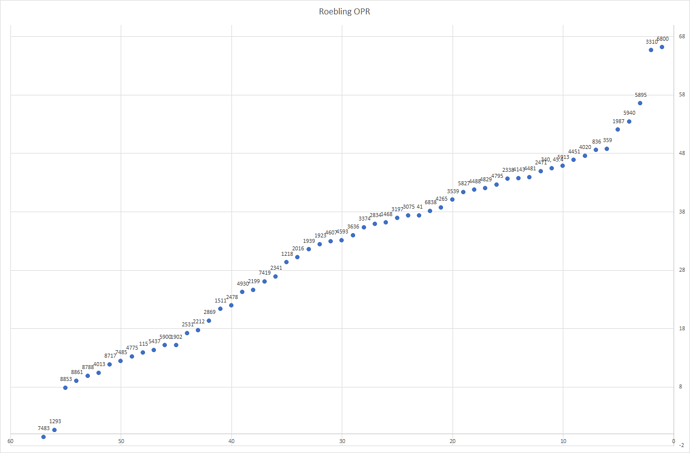 Data courtesy of Statbotics
Hi all!
6838 is really looking forward to hitting the carpet in Roebling! Seems like it will be a lot of fun.
Due to the visa problems Turkish teams are facing (see here), we do not have enough students to have proper scouting.
Are there any teams that will be publicly releasing their scout data?
Or are there any teams that would want to scout together with 2-3 students from our team?
Pandamaniacs are thrilled to be playing at our first-ever Championship with so many familiar (and familiar-to-me-at-least) faces. And we're bringing a few upgrades to Pandamonium that should be delightfully infuriating to opposing drive teams.
See y'all soon!
Hi team 6838,
We am from team 4265 and we are also in Roebling division. We have a scouting program and would be glad to share data with you guys, view website Lindsey.swollenhippo.com! We would probably not need you guys to have any full scouters, but maybe help with it some.
We are just glad some of your team can come to Champs and play!
If you have any questions or are interested in this offer hou can direct message this account and we can set up an account connected to our dataset for you guys.
-Lindsey (Aarons sister), Ops and Scouting lead
Hi from 4795!
Looks like 4265 already has scouting covered, but we would also be happy to help with sharing data or having some of your students join our scouting rotation. Please let us know if you need any help with anything, including filling out drive team/pit crew/cheering squad.
Do you know if 8861 will be able to come and if they'll also need help with anything?
Thanks y'all! You guys make all this process a lot easier. Seems like we will have a drive team for now, but we might need some help from mechanical, electrical, or pneumatics students or mentors from time to time / full time. If you guys have anyone who is experienced in those areas who would enjoy helping us out, we would enjoy their company. PM me in case that works out.
I don't know what our students plan to do about scouting, but we are a relatively large team, so if you need any working hands we will probably have a couple of people free to help most of the time. We'll be happy to help!
Also, I do not know about 8861 but I think they are coming as they are registered. Will check-in with them and inform everyone here if need be.
Seems like the entire division has offered to help, now including 2869
This is awesome.
Our team never had standard scouting happening in our history as we almost never have a full team traveling to the events we do.
It's normally me and a few others and do more observations, and some key data collection.
We'd like to use this as well.
Ok, so right now our website is experiencing technical difficulties and the team creation page is down page is down. Swing by our pit at Champs and we can work out getting you data. Happy to help and see y'all in Houston!
Pop by 4451 Robot's Garage pit at Champs. We love helping out when we can.
NEvasion coming in - 176, 230, 3182, 3467, 5813, 6328, 7407 all joining the Roebling Division!
Not sure about the other teams that were listed as "None" yet, the only source for all this at the moment is the FIRST Championship app, which has no ability to sort by division as far as I can tell.
But excited to play with you all!
Half the teams who skipped NEDCMP are all in the same division. New DCMP?
From reading off the app - this is I believe the updated Roebling list
41
67
107
115
176
230
340
359
836
1218
1293
1468
1511
1701
1902
1923
1939
1987
2016
2075
2199
2212
2338
2341
2471
2478
2531
2834
2869
3075
3182
3197
3310
3374
3467
3534
3539
3620
3636
4013
4020
4130
4143
4265
4362
4451
4481
4488
4593
4607
4775
4795
4829
4930
5437
5712
5813
5827
5895
5900
5913
5940
6328
6800
6838
6907
7407
7419
7457
7483
7485
8717
8788
8840
8853
8861
Well this is going to be fun

Team 3467 is excited to be a part of the Roebling Division this year! Here is a champs preview / reveal video we recently put together: Team 3467 Windham Windup 2022: TAILGATE - YouTube
We can't wait to meet all of the amazing teams going to the championship this year! Safe travels everyone!