So the main thing of note IMO is you can't charge batteries during load-in?
I believe they are saying you can charge batteries. They removed it from the exceptions because it isn't against R304 in the first place.
G405 is prohibiting sub "MOMENTARY" catch and shoot strats?
Yep, they've explicitly called out scoring cargo released from the exits.
You can do it once per match (according to the definition of REPEATED) but thats it.
Am I missing something? Figure 7-2 is the exact same in the original manual as in this Team Update.
Losing my mind over this too. TU2 cites figure C to have changed, but overlaying the images shows them to be exactly the same.
We had a version of the manual featuring the following image-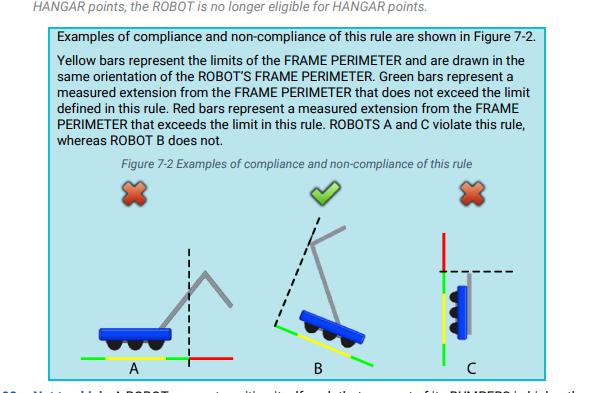 so what i forgot until just now as im typing this, they put the updates into the manual as well. so if you look at the manual from the FIRST website, it shows the updated version. @BuzzBots showed the original you get from the pdf you download on kickoff day. that one doesn't automatically update.
i feel silly for not realizing this sooner. i was also losing my mind last night
Team Update 1 accidentally cut off the robot extension in example C. They just corrected the image in Team Update 2 to be the same as the original manual.
yup. I save every version of the manual as a pdf on my computer, so I can keep track of these important things. This is the same image from the Jan 11 (update one) version of the game manual.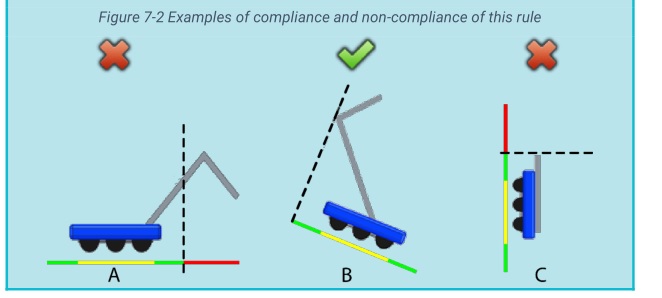 It looks like in that image Example C doesn't have the full extension.
That's really weird, I was comparing against my day 1 downloaded copy and it had th "updated" version.
Glad it got fixed though, I can see why that would be confusing.
Edit: as others have said, TU1 accidentally updated the image to the version missing the overhang. That explains it.
It turns out that in the version of the manual published after TU01, the arm of the robot on the right which was outside of 16" was missing (or more likely obscured). Both the encrypted and kickoff versions had the full arm.
Added: Why is it everyone responded to @Jarren_Harkema, but his post listed no replies?
Not sure why that's even in there…the battery is practically a sovereign citizen in FRC. They can be charged wherever, whenever, by whatever and loaned to whomever.
If you didn't fall asleep to the battery charging noise in your hotel room during a comp you're missing out.
They're supposed to make noise?
bzzzzzzzzzzzzzzzzzzzzzzzzzzzzzzzzzzzzzzzzzzzzzz
This topic was automatically closed 365 days after the last reply. New replies are no longer allowed.