Surprised to see no 1684 here…. Happy to be back and compete with everyone for another year!
Looks like 1684 was one of 4 teams (1684, 3061, 4467, 6517) to get picked for the playoffs at the championship not on the invited list.
Little disappointed to see some of the international teams (7522 from China and 9047 from Brazil) not on the list as well as the newest Hall of Fame team 321.
Should be an awesome event!
Goodness! It looks like IRI 2023 will be considerable stronger than CMP divisions were – and that is not unusual for IRI. The expected minimum EPA for playoff teams will be about 60.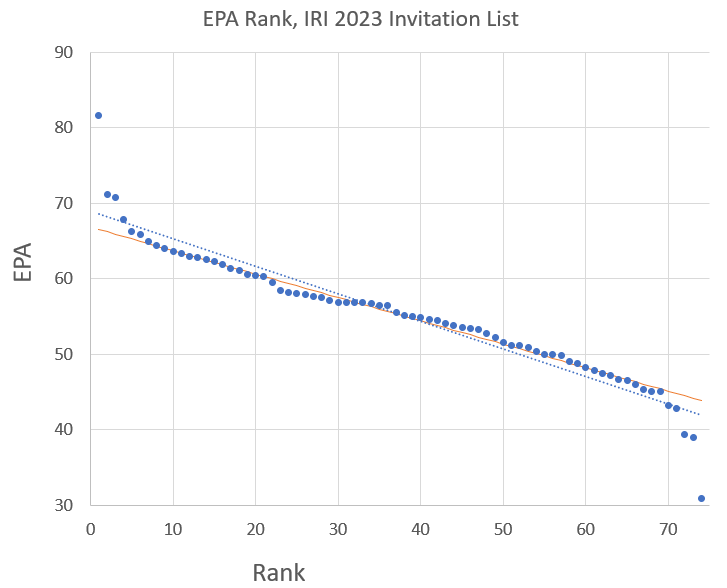 Scores above 200 will not be particularly noteworthy.
The Cyber Cavs are the most exciting entry on this list in my mind. We all missed out when they weren't able to make the trip to Champs, so I'm glad they'll have a chance to play on an international stage at IRI. They definitely have one of my favourite robots of this past season.
Did those teams apply? I can certainly think of a few reasons why teams who would qualify not applying. I know 2075 has a schedule conflict, and travel expenses add up quickly.
For reference, here is the list of teams that applied
Thanks, I didn't know that existed.
321 coach here, and yes we applied, but our robot wasn't nearly as strong as the awesome teams who were invited. Looking forward to watching some matches from home

From part of team 4635, as a project for our scouts, we gathered info from several places to post a pre-scout for IRI 2023. The info is not complete yet so, if any team, attending IRI or not, would like to contribute that would be awesome :). To edit it send an edit request and I'll accept it asap.

Special shoutout to team 1676 for their public champs pre-scouting thread, thanks Pascack PI-oneers
. (2023 World Championship Public Pre-Scouting Database)
With acceptances required on Monday, is there any update to the team list?
Nothing posted on TBA yet.
I am planning on going down to watch the event. So many great teams. We run an off season event up here in MN and I am hoping to get some inspiration.
Just a short 12 hr drive.
Come stop by 6045's pit! So many great MN teams at IRI this year
Just checking in to see when the event schedule and final team list might be available.
Looking forward to another IRI!
We are finalizing the last few teams, and then we will publish the listing. Same for the event schedule, finalizing a few details and coming soon.
5712 is ready to attend IRI again!..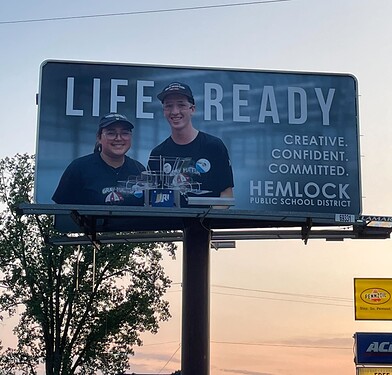 (One of our students spotted this the other day, figured I'd share)
This is really cool, nice job to whomever pulled this off!
@Chris_Fultz When should people who have emailed the volunteer email expect to hear back?
Should I be worried that we are less than 2 weeks out and there has been no updates?
Second that one Karthik,
Cybercavs are one of the best teams I saw this year, and we were on Archemedies.
They consistently complete a top row link in auto. Not sure how many teams can do that.
4678 is the only team invited to IRI that scored 3 game pieces high in auto at their last event. They achieved it 38% of matches when running an auto from the flat side without attempting the charge station. They are most certainly the real deal.