As many of you know, for last year's season SOTAbots team 2557 designed and manufactured our own shifting swerve modules. This year, we aim to improve on the design with our second model - the i2. This module is lighter, stronger and more compact than the 2022 version.
In the 2022 game Rapid React, our original design proved itself extremely successful, vastly exceeding our expectations. The two speeds helped us to get up to speed quickly, and the lower gear allowed us to play the defense card if we ever needed to.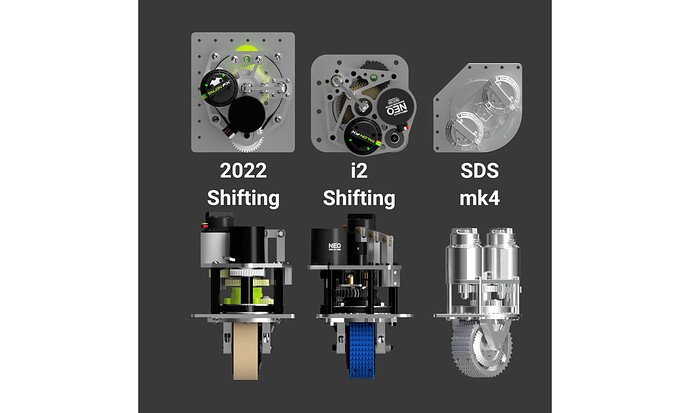 Some people ask, "why choose shifting swerve when conventional swerve modules are proven and tested?" we chose this route for three main reasons:
#1: It provides an engineering challenge for our team, as well as an opportunity to learn and innovate in the process.
#2: In testing we have found that our shifting swerve enables faster acceleration and higher top speeds, as well as more low end torque, which allows for an aggressive defense.
#3: Shifting swerve is super cool. Designing and manufacturing a unique module completely in house sets us apart, and is a point of pride for our team.
I2 Shifting swerve GrabCad: https://grabcad.com/library/2557-i2-shifting-swerve-1
2022 Shifting swerve release: Team 2557 shifting swerve release - #5 by Buildboy
Specifications:
High gear – 19 feet per second (6.7 m/s)
Low gear – 9 feet per second (3.4 m/s)
Weight – 7.1lbs/3.2kg
Maximum dimensions – H 10.26 x 6.55 x 6.05
Feel free to ask questions and send feedback, both are appreciated.