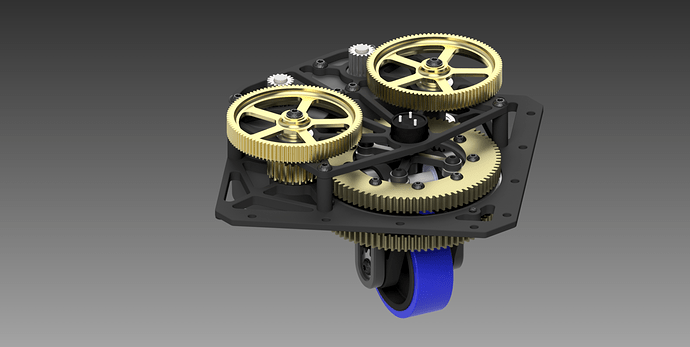 For fun, during the off-season, we are looking into creating a differential swerve. We think that it should be a fun machining and programming challenge and could possibly be useful in the official season if all details were planned out prior.
The module is powered by two Neos. The steering has a gear ratio of 19.5:1, which is slightly higher than what 2910 was running on their MK2 module. The module is driven by a 2.75" wheel with 1" Blue Nitrile tread, it geared to 15.75 ft/s free speed. While it is geared high I feel like it will still have quick accelerations using both Neos.
Inventor currently has the weight of the module at around 5 pounds including everything in the picture above.
The module could use Cims or mini Cims but would need either an encoder on the motors or on the wheel as the current design is using the neos built-in hall effect sensor. The module also uses the same KHK bevel gears used in 2910's modules for the differential.
The module while it takes up a large footprint 7" by 7" from outer frame rails, it is short at only 5.2" tall. Mounted to the top of a 2 by 1 tube the module provides 1.375" of ground clearance.
This module is inspired by Aren Hill/971 and Bryce C.
As always questions and critics are welcome,
Owen Wilks
FRC 2471