Team 2485 is pleased to release the CAD for our robot for the 2022 season, Maverick, inspired by Top Gun. We're proud of Maverick for advancing far into elimination rounds at both the San Diego Regional and the Central Valley Regional, along with being a finalist at the offseason Battle at the Border. This season, we prioritized the endgame's high-scoring points and developed a unique climber mechanism that ensures a stable climb. I'm especially excited to announce that Maverick had an undefeated streak of remaining on the hangar bars, and never fell off! The system we created was inspired by ski lifts, and used a custom rack and pinion system to guide the robot up the bars, and was unlike any climb we've seen! Our climb even won us the Creativity Award at the San Diego Regional.
Maverick also used an over-the-bumper intake and a double-flywheel shooter with equal surface speeds to shoot cargo into the upper and lower hub.
** Specs **
Drivetrain: Swerve Drive with 4x MK4 SDS Modules, with 16.3 ft/sec theoretical free speed
Climber Vertical Slide: 32.67:1 Reduction, powered by Falcon
Climber Rotating Arms: 57.6:1 reduction, powered by Falcon
Intake: 5 in compliant wheels for front roller, 2 in mecanums for rear
Shooter: 6 in main flywheel, 2.25 in secondary flywheels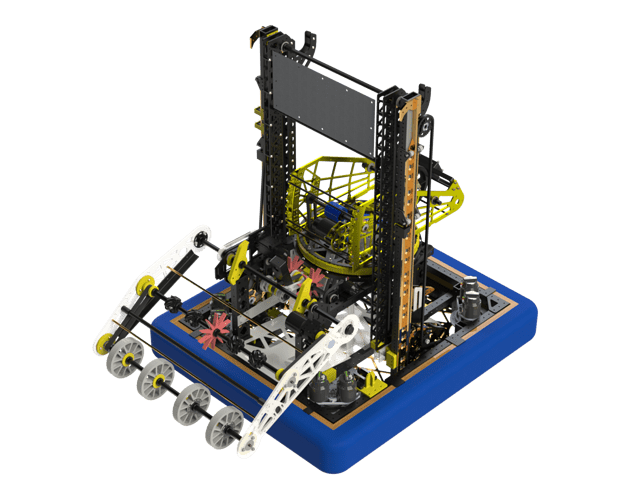 Cost: Too much (Our most expensive robot yet!)
Weight: 125 lbs
Find the CAD here: https://grabcad.com/library/2485-2022-maverick-cad-release-1
Thanks to everyone who made this a great year! Team 2485 is Charged Up for the upcoming build season!