Holy end effector!

That's brilliant stuff, amazing work!
I don't think I've been able to stop playing the video repeatedly since this was posted.
looks absolutely incredible once again. how much does that thing weigh? gotta be like 60lbs!?
That intake/wrist in general is amazing
Is…
Is… your cable chain… 35mm film?
1690 but Texas (not really but close enough for me)
I believe 3847 does something similar and runs thin polycarb with slots cut into it.
Yes, we are running 1/32" polycarb as our cable carrier this year.
You can see it in the photo here behind the constant force spring, it's purple (vinyl covered). We got the idea from 971's 2019 robot. The spring stops the wire carrier from ever getting pinched by the carriage.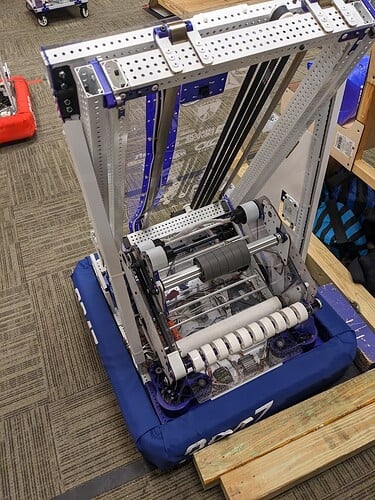 Yeah, about 60lbs without ballast. We're at 81.8lbs with ballast at the moment.
As @Akash_Rastogi and @AllenGregoryIV mentioned, this is the thin polycarb cable carrier method pioneered by 971. The holes in the strip are just there for zip tie mounting.
For our application we added another feature that might be useful to other teams: we put a bend down the length of the strip. This lets it function like a snap bracelet where it's rigid when straight but flexible as soon as you put a small bend in it.
Nice job. Looking forward to seeing y'all in Allen. Hopefully we will be on your alliance more than against it.
This robot is cool as heck. I want to build one now haha
How does the wire mount retract nicely into the "sheath"? is it passive, or do you have a spring pulling back on it?
This is very clever, and we may be redoing our cable carrier after Week 1.
No spring, just passive. The bend I mentioned gives it the stiffness to be pushed into the sheath. It also keeps it from bending the wrong way (just like an e-chain).
Is the telescope chain driven?