Mom, can we have FALCON 500??
Mom: "We have FALCON 500 at home"
Falcon 500 at home:
https://www.printables.com/model/481577-3171-hurricanes-hurrilink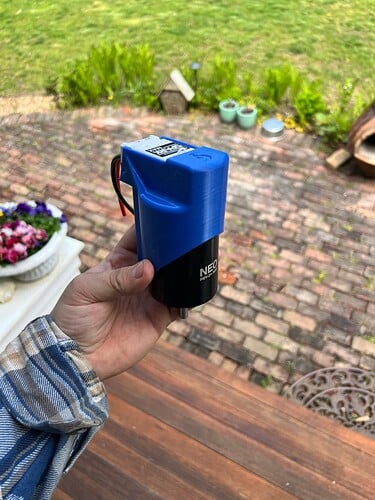 Introducing the HurriLink, an easy-to-print adapter to join a NEO 1.1 motor and SparkMax into a compact package. The print requires no support, save for two bridge tabs included in the model. No modification of the motor or controller is necessary. The print utilizes a tapered recess for the motor, and the new 10-32 hole provided by REV for press fitting provides retention. All high voltage wires are fully shielded, and the annoying encoder cable (sorry REV, it's the worst part) is completely protected.
Needed additional parts are 3x WAGO 221 inline connectors, or similar crimp disconnect male/females, and 1x 3/8" 10-32 machine screw and washer to secure motor. Instructions for assembly are provided in the Printables link.
There are two flavors of HurriLink provided, regular and compact. The regular version is 4.6" overall height and requires NO wire shortening, so you can give it a try without hacking up your expensive motors and controllers. Love it? A compact version at 4.0" is provided, which requires shortening the high voltage power leads on both controller and motor to fit into the assembly, but has space for the full length encoder cable to alleviate the need to recrimp the tiny connector.

Best of luck in 2023/2024 from the 3171 Hurricanes!