This is a swerve module I designed as a custom swerve my team would actually build and compete with if we are comfortable using custom instead of COTS. This is design is heavily based off of team 2471's Hermes module, it also takes inspiration from team 33's winter swerve.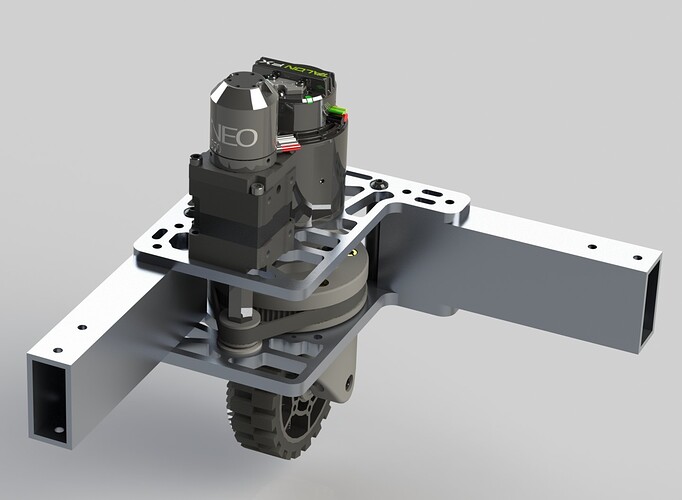 The main goals of this module were to minimize footprint and weight with a 4in wheel and use COTS parts when possible to make it easier to manufacture and build.
Some stats:
Weight 4.5lbs
Footprint 4in wide x 5.5in long
Height 10in
Ground Clearance 3.86in
Gearing 13:22 (normal) ->15:60 (bevel), 4in wheel
Free speed 16.5fps or 13.9fps using the same spacing
Azimuth gearing 10:1 VersaPlanetary Lite -> 20:80 belt reduction
The drive motor is a Falcon 500, azimuth motor is a NEO 550. 4in black tread HiGrip wheel for simplicity (no custom tread, no hassle). The bevel gears are the same as 2910's MK2 module and are from from Swerve Drive Specialties. The top plate is 1/4in thick aluminum and the bottom plate is 5/16in thick aluminum. The azimuth pulley and wheel forks would be 3D printed out of PETG or onyx.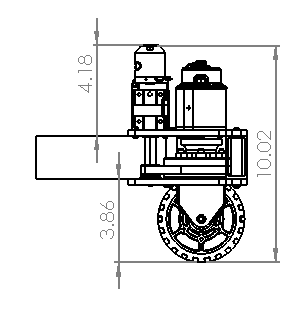 CAD can be found here : https://grabcad.com/library/swerve-10-1-1
I would like to reiterate that the majority of the design work was done by teams 2471 and 33, so big thanks to both of them for sharing their designs.
Feedback is greatly appreciated