Team 3986 - Express-O proudly releases the CAD model and BOM for the Swerve Module it has developed during the Off-season as a Drivetrain option for its FRC robots.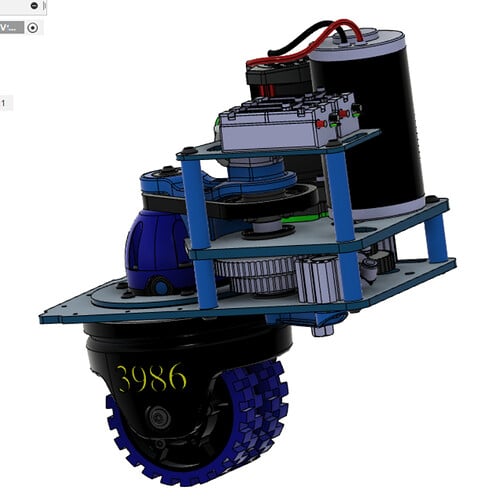 Team 3986 integrated this Swerve Drive in the robot it competed with in the 2019 Betabots - Nanodose Off-Season competition in Montreal.
BetaBots 2019 - Nanodose
3986 Swerve Drive V1 CAD Model and BOM
The Swerve module incorporates the following features:
the Caster assembly is almost entirely 3D printed using a carbon-fiber reinforced Nylon filament;
The Caster can be configured with either one (1) or two (2) wheels. At this time, only the two-wheel configuration was field tested;
it integrates a two-speed, pneumatically actuated, ball-shifter;
the V1 Swerve module uses a CIM motor for traction and a 775Pro motor for direction;
the Caster incorporates an innovative means of replacing bulky and difficult to procure thrust bearings with high-tech Teflon Glide Pads;
encoders are fitted on both the traction and direction axes.