Now that the dust has settled, and we have the official drawings, I am happy to report that Team 4130, The Blue Devils in SE Michigan will be opening a K-12 STEM Center! Our school district passed a 38.7 million dollar bond November of 2019, and within that bond included the renovation of a current wing in the high school to be used for K-12 Robotics. Attached I have the preliminary drawing for bidding, as well as the render of our new entrance.
ALSO; within this bond was an addition of a fieldhouse to be used for our decorated athletics programs at Richmond. This also allows Richmond the ability to host an official FIRST Robotics Competition District, so stay tuned for that in 2022! Any questions please feel free to reach out. I am more than willing to speak with anyone about how we went about some different items.
1 - There is not space for a practice field. We are a member of the Blue Water Area Robotics Alliance which has a warehouse in Port Huron that as a team we have 24/7 access to year round that has an official AM field boarder and wooden elements.
2- The attached drawing includes where the machines are at in the machine room. The "L" type shape was not our first choice, but is what the superintendent gave us to work with.
Let me know if you have any other questions!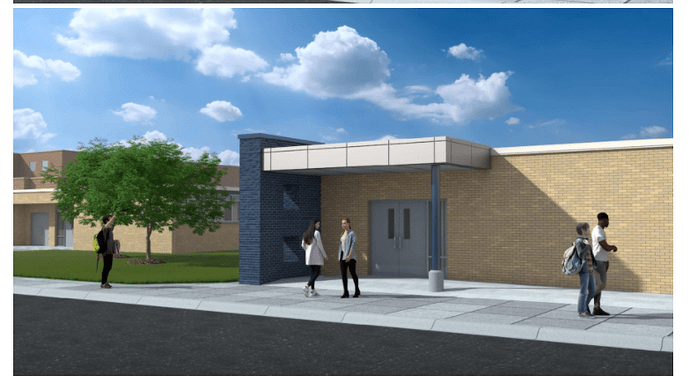 Robotics Area With Machines (1).pdf
(293.2 KB)