Hello and welcome to a brand-new tradition that I want to start for my future 422 CEOs (go programming dynasty). Brace yourselves for a super long post. I want to create a post/thread where we can recap and reflect on our season and give our thanks to all of those who have supported us this season. If you have any comments, reflections, or highlights of your own season, then please post them. I personally want to hear everyone's stories! I want to thank @pchild for inspiring me with his end of DCMP post last year (Last year's post). I will also apologize for the terrible grammar, structure, and spelling in this post.
First, I wanted to say that this season was a blast for everyone on 422. Out of the 4 years that I have been on this team, this was the most enjoyable season. I am proud of all that we were able to do and also proud of what my colleagues on other teams have been able to accomplish.
BLACKSBURG WEEK 1
Blacksburg was an amazing event, and the host team 401 and the volunteers exceeded all expectations. For this event, we had a lot of electrical issues, but Levi, 401, and 404 were extremely helpful in helping us solve all of our issues in time for the playoffs. I also wanted to shout out our alliance partners, 5724: Spartan Robotics and 3939: Botetourt, who believed in us and picked us as a first pick on the fifth alliance. As always, 401 and 404 were amazing pit neighbors. The highlight for our team would be upsetting the first seeded alliance (although I will admit that we were really lucky).
GLEN ALLEN WEEK 4
Glen Allen was another fun event with a grate (pun intended) host team: 1086. This event was great fun and a tremendous learning experience for our team. This event highlighted a lot about our weaknesses (especially the energy chain) and allowed us to make significant upgrades, which saved us in both DCMP and Worlds (see images below). It was an honor to play in the first seeded alliance with 1123, 540, and 2988. I would also like to give a huge shout out to 1599: Circuit Tree and 2106: The Junkyard Dogs for loaning us spare energy chain links and connectors that made it possible for us to continue to compete. The highlight of this event for our team would be the 4 Alliance (449, 401, 422) with a final score of 151. We set a high score for the event until it was broken in semifinal match 6.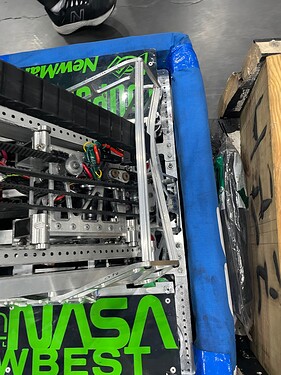 DCMP WEEK 6
By this event, our team had resolved most of our issues, and we were ready to be "strong amazing"
I'm sorry I had to do it to you, but your analysis was great, so I just wanted to give you a shout-out.
DCMP was a wild ride, and while we didn't rank high enough to be an alliance captain, we still had a blast playing with our alliance captain, 6802: Mean Caimans, and our second pick robot, 1111: Power Hawks. This alliance was amazing to work with and served as a great learning experience for our scouts and rookie strategists. I also wanted to give a huge shout out to our pit neighbors 449 and 401, who put up with the flood of 422 rookies swarming their pits. The highlight for us in this event would be the moment we found out we made it to the Worlds for the first time since 2018.
WORLDS WEEK 8
By the time Worlds rolled around, we had improved even more since DCMP. We added more upgrades and optimized our subsystems. We had a real close call with travel logistics as our bus canceled on us at the last moment, but we were able to find a new company (and make it on the news!). As I stated in my post in the Johnson Division thread, our field had some FMS and field element issues. Even though we had a lot of issues with our field, the volunteers were able to make the best of the situation. This year, our team made it the furthest it's ever been, and we were able to make it as a second pick on the 6th alliance with 1718: The Fighting Pis, 6377: Howdy Bots, and 1676: The Pascack Pi-oneers. This alliance was a powerhouse and was easily the best alliance we played in this season. Our highlight for this event had to be making it to the division finals. Even though we did not win, we made it further than we ever expected to.
SEASON REFLECTIONS
Even though we did not win any blue banners
(except the Woodie Flowers Award from DCMP), we still had a great time this season, and we at 422 hope that everyone else has had an amazing season as well. This year we learned a lot about programming, build, logistics, and especially electrical. We also learned a lot about outreach, especially from world-class outreach teams like 1629: Garrett Coalition.
SPECIAL SHOUTOUTS
First, I want to give a real special shoutout to team 401. If you've read the entirety of this post, you're probably annoyed about how many times I've mentioned 401. However, in all seriousness, 401 has been a great friend not just this season but in many seasons past. This year we continued the tradition of doing joint scouting using the newly developed 401 scouting app. Doing this allowed both of our teams to access very accurate scouting data. In addition, for 3 out of the 4 events this season, we were pit neighbors, and 401 mentors and team members offered critical help in diagnosing some of our most mysterious electrical gremlins. Even when we were not pit neighbors at worlds, 401 still came up to watch our division matches and cheer us on. I cannot put into words how much this means to us. Some additional individuals (I cannot find their usernames) that I want to include in my general shout out are Bela, the technical and scouting director, for coordinating our joint scouting operation, Jack for sharing snacks with us, Brandon for all of the advice he has given us, and finally @pchild who has given us advice on countless problems and helped us troubleshoot any and all problems at almost any hour. In addition, if doing all of this just wasn't enough, when our bus trip to Worlds was canceled, they offered to see if we could tag along with them. All together, 401 has gone above and beyond just pit friends, and we at 422 are proud to have such a kind and gracious sister team.
Second, I would like to shout out 404, who hung out with us and let us borrow their trash can and Safety Dale. I would like to thank you all for cheering for us all the time and being great pals.
Third, I want to thank 449 (all the 4s I know) along with 401, they also came to our division just to cheer us on. Your chants and flag waving were top-notch and really boosted our team morale.
Next, I want to thank 6377, who were our scouting partners and alliance partners at Worlds. Being able to scout with another team opened up slots for our rookies and team members to explore and experience the venue and innovation fair at Houston. On top of that, the team chemistry between the two teams was top-notch and we look forward to seeing and working with y'all next year as well. I also want to shout out to @Electronica1 for helping us coordinate with 6377.
Finally, in order to avoid a blood feud, I want to give a shout out to Josh from 2363 on top of being a great pal to us here on 422. On top of this, he has even given us very good coding advice and helped facilitate a lot of the breakthroughs that we've made this year.
AWARDS
I would like to start another new tradition on top of doing shout outs, I want to hand out some very serious awards. Like these awards are so serious that you cannot imagine how serious they are. In no way are they silly, impractical, or downright strange.
The first award is the Friend of 422 award. This award recognizes an individual who has been shown to be an extraordinary friend and person in the community. The award comes with the following benefits.
A sprinkle of clout
A limited edition It Ain't Easy Being CHSy Pin
Small bragging rights
A make shift trophy made out of various spare parts we found (maybe)
The first annual Friend of 422 award, determined by a tied vote in the 422 discord goes to: Josh from 2363: Triple Helix and Jack from 401. Due to a mistake earlier in the year, a swarm of 422 people rushed to add Josh as a friend on the discord. Mostly because of the message seen below which solidifies him as a bonified friend of 422.

Jack earned his spot as a Friend of 422 for being well spirited and a general good friend to many of those on 422 and most importantly, for bringing Oreos to the poor Oreoless souls here at 422. Because there was a tie when handing out this award, the trophy, if made, will be sawed in half and one half will be delivered to each winner.
I would also like to award the first annual 422 Roboter of the Year. This award recognizes the individual that has the largest impact on 422 and serves as an inspiration for us all. The award comes with these benefits:
Clout
Bragging rights
Right to have any 422 student salute, bow, or make any other custom salute, handshake, gesture, or ritual as long as it doesn't offend people whenever they pass you.
A makeshift trophy made out of various spare parts we found (maybe)
This year's 422 Roboter of the Year goes to: @pchild (yay Preston again). Preston won this award by a landslide vote in the 422 discord and as a result. We recognize Preston for being available to answer any questions we had about literally anything. This includes programming, electrical, design, and even machining new polycarb parts for us at Worlds.
Finally, I want to thank all the FIRST volunteers, staff, and teams out there for such a great season. I hope to see you all next year, and I hope we can all continue to learn and grow together.
If you are a winner of an award, contact me through discord to discuss the terms of your winnings.
Cheers to all of the friends, robots, and memories we've made together.
422 out