Team 4265 The Secret City Wildbots is proud to present the Third iteration of our two-speed swerve design.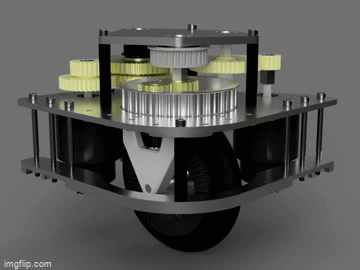 After our success running the previous iterations of these shifting modules during the 2021 and 2022 season we decided to design a new Inverted-style module, primarily to lower the drivetrains center of gravity, allow for more open space above the bumpers, and protect the modules from damage accumulated throughout the season. The current design has free speeds of 7.66 ft/s in low gear and 18.03 ft/s in high gear; however, other possible gearings can be found in this spreadsheet for both 4" and 5" wheel configurations:
Inverted Shifting Swerve Gearings.xlsx (48.6 KB)
The total dimensions of the module are 8" x 8" x 7.38 in", and it sits 2.44" above the drive tubes.
CAD file can be found here:
Inverted Swerve CAD