It's a wrap on our second annual (minus Covid year) summer Robot School for middle school prospects. We had an outstanding batch of newbies turn up and spent six afternoons doing stuff. What kind of stuff?
Programmers went from basic stuff to an end of session open house robot trick. The test bed robot used Limelight to detect the appropriate target box (out of two options), approach, acquire it and once it clears the intake, shut off drive and intake when the box hits the beam break. I've seen lots of FRC teams doing less in autonomous, at least in early events.
Everyone with build inclinations had to take at least basic training in Fusion 360. After the 3rd or 4th session they were doing rapid designs for things the prototyping crew needed. Complex adapters, simple shaft collars, etc. The biggest eye opener for me was not for our robot at all. I told the recruits that they could bring in little widgets from home. I was thinking, Legos, broken drawer pulls, just stuff to get them measuring well, modeling reasonably, etc. I was not expecting this: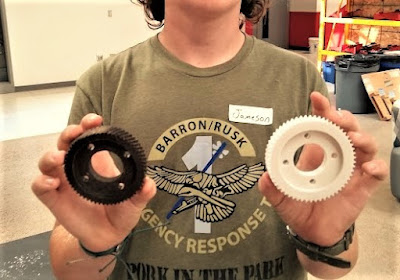 One first time CAD student brought in a weird bakelite/resin helical gear from a meat grinder. Supposedly 1930's vintage. One hour of modeling, 3 hours of printing, 10 minutes of filing. He brought it home and successfully installed it that night.
Here's one of several videos that the media/PR team cooked up during Robot School.
We are looking at 8 kids coming on to the team as 9th graders and 4 or 5 who have shown us enough to be offered a spot even though they will still be in 8th.
Fun, and a solid base for our team that is, like everyone else, in rebuild mode. If anyone is interested in more nuts and bolts details on running this sort of program feel free to PM.
T.Wolter
Team 5826