Team 696 is proud to present our 2022 competition robot Sanddrag! (Practice bot named refrigerator, long story).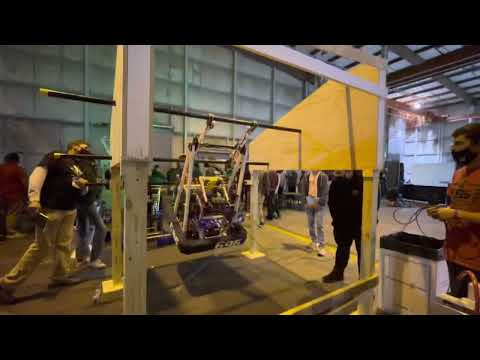 Robot features
2.5 second traversal climber
four-bar ground pickup intake
fully variable shooter and hood for auto-targeting within 4-22ft from the goal.
SDS mK4 drive base
Naming history
Since 2002, our head mentor/teacher Mr. Black (@sanddrag) has been committed to developing team 696 from a drill press in a closet to a full-fledged machine shop today, with three Haas CNC's and fiber lasers, among other industry-level equipment. Due to some more recent changes within the team's workflow and structure, however, Mr. Black chose to step down from his position as Team 696's teacher/lead mentor. As a team, we decided that dedicating our past few months of work in the lab to @sanddrag would be the best way to say thank you for everything you've done for the team.
Refrigerator?
The name "refrigerator" was actually a finalist pick for the comp bot's name until returning members had this naming idea and vetoed the refrigerator vote down to the practice bot.
-Team 696