This past weekend 3739 competed at the Waterloo district event here in Ontario and had a great time. We had our ups and our downs and are ready to do it all over again in week 6.
One of the "downs" we experienced was during our last qualification match. Our drivers came back to the pit telling us that the elevator wasn't working properly. We noticed that our SRX was sending a full 12V to the motor (775pro) but nothing was happening. After determining that it was our motor at fault we proceeded to replace it. One removed we realized that there was something lodged inside the motor causing it to stall. We assumed it was a loose rivet we had drilled out or something similar.
One brief autopsy later and we found this.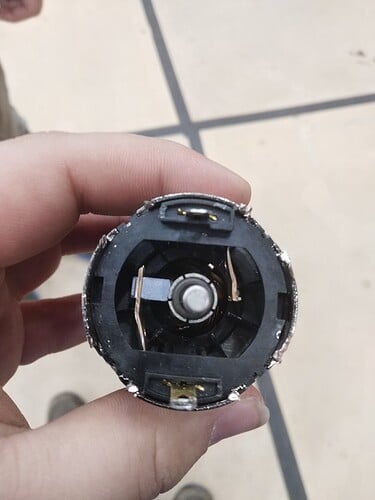 Turns out the not so foreign object lodged in the motor was one of the brushes from the motor itself. We're not certain what caused this and I haven't seen this before. Thought some others in the community might find it interesting and/or enjoy speculating as to the cause.