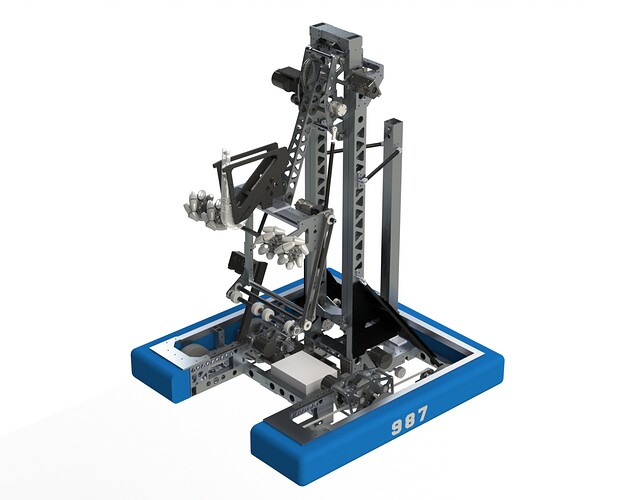 Team 987 is proud to reveal their 2019 robot "Double Down"
https://youtu.be/bFSVy1DJgqw
Looks great, nice work 987! Hope to join y'all in Houston, good luck this weekend!
Awesome bot! It looks similar to last years, but in a good way! Hope you have a great season
Luckily for us "north" teams, 987 will be at Detroit championship this year! So excited we get to see one of our west coast friends, and can't wait to see this robot up close. Great job guys!
Shucks! I wanted to thank the Limelight crew in-person! Maybe they'll make the trip to Houston anyway?

Always love to see a good four bar + elevator combo. Looking forward to checking it out in Detroit!
I noticed you guys have 2 limelights this year. With the new bandwidth limit how are you planning to keep your vision targeting in a stable and reliable state?
If you're a little careful with the settings, each limelight stream should be around 1Mb/s. Targeting is done onboard and can still function if you lose the stream.
Neat! Looking a lot lighter than last year. What's the weight?
Believe we are at 113 lbs. and a rare opportunity to add more if needed:) We are looking forward to your reveal BTW. Bring it on:)
Can't wait for watch 987 this season. Even if we're competing I'll be watching in pit on phone
Showing some potential in the first match at San Diego…one Cargo short of filling a rocket, and got a 3 climb that didn't count (perhaps the other robot on 1 was contacting it?)
I heard that was the case indeed. They completed a rocket and climbed yesterday in a practice match solo.
The robot on level one was contacting 987's bumpers, so 987's climb only counted as a level 1.
That's how it looked on the webcast. Lesson learned…
We had an amazing time playing with you guys at San Diego!! Good luck at Las Vegas and Detroit!
PS: sorry for running into your climb

Congrats on your well deserved win, awesome robotperformance. Good luck in las Vegas and we'll see you in Detroit!!