I'm tired of linking back to the increasingly sprawling raw testing results, so I have condensed the information here in this guide: Mini PC Photonvision Guide - Google Docs
This guide explains how to set up a Beelink Mini PC for Apriltag detection using Photonvision. For someone as Linux-averse as me, this was fairly easy, and I have tested everything in the guide except setting a static IP (added as an issue to PV here) because that looked like it would take an hour and would be fixed before the season anyway.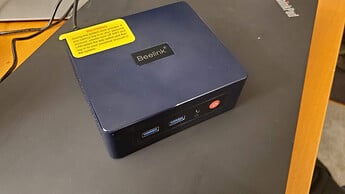 For under $200 total including cameras, you can create a very high performance vision system that far outperforms Raspberry Pi-based solutions. My favorite configuration at this time is a combo of:
AR0144 localizing tags at 1280x720p at 15fps, 57ms latency, detecting tags 27ft away
OV2710 at 320x240 at 60fps, 9ms latency, detecting tags 11ft away for game piece scoring
Lifecam-3000 at 320x240 used as a driver camera at 30fps
Many other configurations are possible if you have other USB webcams available. The PS3 Eye worked well, for example, albeit with a limited FOV. Single-camera performance is excellent, with the OV9281 achieving 20fps, 42ms latency with a 29ft detection distance at 1280x800 - far enough to localize the 2022 high goal from anywhere on the field. Plus, all distance tests were done with 36h11 tags, so the official 16h5 tags should yield ~21% more detection range than what's in the guide. This means that you could have multiple 640x480 cameras each doing 60fps detection of tags up to 28ft away.
With no more need for green LEDs blasting the target, and with such an excellent open-source resource in Photonvision, these types of mini PCs represent excellent value. I am convinced that higher performance will only lead to very marginal competitive gains. Hopefully the use of more powerful coprocessors such as these catches on - Raspberry Pi's are great, but the sky's the limit with mini desktop computers.