Our team is considering using constant force springs to power the extension of a telescoping tube arm, but we do not know how much force will be required to retract the tubes. The telescoping arm would be retracted with a rope that runs through the center of all of the tubes and is attached to Stage 2.
Knowns:
1 individual spring is rated for 20 lbs of force, so each spring set will provide 40 lbs of force.
Stage 1 and Stage 2 move, the Frame is fixed in place
Spring Set 1 is attached to the frame and is pulling Stage 1 upward with 40 lbs of force.
Spring Set 2 is attached to Stage 1 and is pulling Stage 2 upward with 40 lbs of force.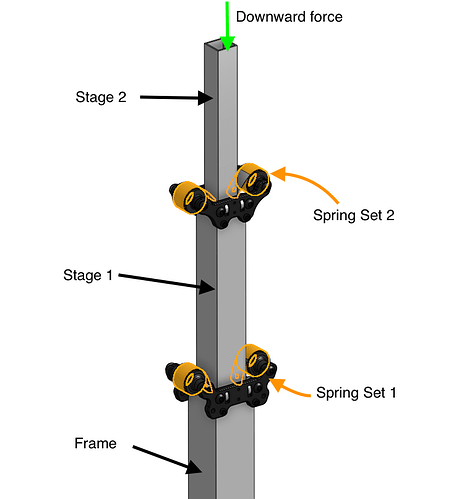 Question: How much constant downward force (the green arrow) is required to fully compress the telescoping arm?