I was always keen on our team having an elevator. While I doubt our team will have one for a while, I have decided to start to learn using OnShape and try to get an elevator solution which would be cheaper than Greyt while trying to have similar functionality. The price tag for this elevator is $348.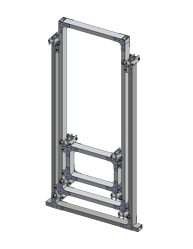 CAD File
The elevator can gain 65 in. and while not being completely legal due to height restrictions, it would be easy to edit the CAD in order to make it legal.
So, please feel free to view the CAD, try to poke some holes in it, and I'd be more than happy to listen to what you've got to say.