Thanks guys I understand it now
Thanks for simulation I will use it if we need a shooter next year
Very excellent!
Two additionalthings I thought worth mentioning…
It might be obvious, but the reason you see variable RPM as the first step teams try to use is that it's largely a software problem. As long as you have a functional shooter, all you have to do ™ is slap on some fancy schmancy software, and suddenly you're controlling your shooter RPM.
Controlling the release point requires a similar software effort, but also a lot of (fairly) precision mechanical integration… or a chunk of change.
Software-only solutions are easier, and hence more accessible to teams with fewer resources overall.
Good stuff! One small word of caution - simulators are good as a starting point to understand the basics of what range of speeds and angles you're looking for. However, the effects of air resistance and ball spin are usually quite dramatic, and poorly modeled.
So, definitely don't be afraid to start in simulator space. But also, don't use it as a substitute for thorough prototyping and validation on real hardware.
One other item worth noting is the goal position for 2020/2021 was vertical relative to the ground. Compared to a horizontal goal (like 2017), a shot can have more initial velocity which can also help reduce the spread of a sequence of shots.
Many 2017 shooters used a fixed shooter hood (ourselves included) and only varied RPM.
A solid fixed hood shooter optimized for the locations you shoot from is better than an adjustable hood shooter with poor control. There is good argument for keeping things simple.
If you're interested in seeing some graphs of measured actual results… 6328 did a hybrid approach using multiple pneumatically-operated hood stops with variable flywheel speed, ultimately covering the whole field range. In our build thread we initially talked about the characterization process and curve-fitting for our original 3-position hood and then moving the middle stop and ultimately deciding to change to a 4-position arrangement. We felt this was a good mix of mechanical simplicity and range flexibility; our final arrangement with the flywheel-speed curves fit for the 4 positions looks like this: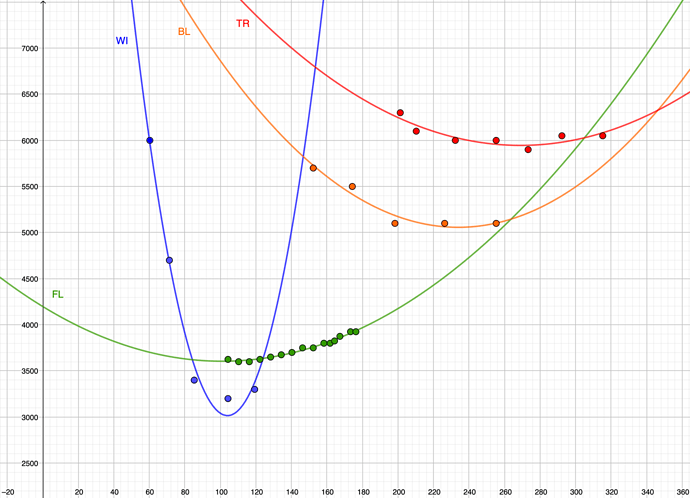 …
As well as adjusting the hood angle, I think you will find that most of the "best teams" are also adjusting RPM to achieve the optimal shot.
This was our thinking in 2020, but for 2021 we had to modify our shooter to have two geometries because the (low) angle balls left our 2020 shooter made it physically impossible to hit the goal from the closest zone in Power Port and Interstellar Accuracy at any velocity.
Yeah – I'm not a huge fan of this year's challenges in that regard TBH; While we designed an adjustable hood as a challenge for ourselves, I don't think it was good of FIRST to create a challenge that basically required an adjustable hood to even complete (IK some teams were able to get it to work with one position and a funky angle in the green zone, but most teams weren't). In a normal game, the only big disadvantages shooting from one position has are an increased susceptibility to defense and longer cycles, and I think FIRST could have done a better job designing challenges that reflected that.
(IK teams didn't have to do interstellar accuracy, but a lot of teams don't have access to a flat space where they can reliably execute autonomous modes, so for many teams IA/PP/HD were the only challenges they could do)
We modified our 2020 shooter with pneumatics to be a two position hood to make the short shot as well. The required extra height of the robot wasn't an issue since we don't have to go under the color wheel. We are planning to go back to the fixed hood if we play in the off season.
A single position hood (or single position double-axle shooter) should be able to hit 2's from any of the zones but green with a single shooter speed and hit 3's from any zones other than green with adjustable speed.
Given that 12 Power Cells could be shot from outside the green zone, 36 points were possible with a single position shooter without doing anything crazy. 45 points would not be possible, but getting 36 points is far from "not completing" the challenge and would have been better than more than 50% of the teams that submitted a raw score.
Sensing Power Cells for GS and programming complex paths for AN are certainly as challenging or more challenging for many teams than building an adjustable shooter for IA. I saw an adjustable shooter made from plastic sheet that was curved more or less by strings at the front corners that were shortened or lengthened by wrapping them around pulleys on servos. I'm sure there are other simple ways to make a shooter adjustable without access to higher-end machining.
There were some challenges amenable to a low threshold of capability in HD and PP, one with kind of a hybrid capability requirement in IA, and some with pretty high capability thresholds in AN and GS. Everything could always be done better, but I thought the challenge variety as presented was pretty well designed.
Sure if 36 was all a team's bot was capable of, then they should rightly be proud of scoring 36. However, we were pretty sure that we would need 45 to have any likelihood of winning our group (our bot is maximally sized and barely under max weight, so we felt we would not be competitive in Hyper Drive). So we decided to modify our hood shooter by "cutting off" the end of it and using a simple servo to "put back" the missing bit when we weren't up close. We computed the ideal launch angle (and therefore hood length) for all 4 zones, but decided that 2 geometries would be "good enough" and a whole lot simpler than trying to build a 4-position hood or start over with a continuously variable hood mechanism.
In addition to that point, galactic search is hardly an option to fall back on. Not only do teams have to be able to make full autonomous paths(relatively complex ones at that) but the ball recognition and path decision making is a huge challenge as well. For many teams, hyperdrive, power port, and interstellar accuracy are the only options.
We scored 45 on the accuracy challenge and came in third in our group. But then 1619 only can in second.

The two position mod was done with band saw and drill press. Admittedly the side plates were cut with a water jet. BUT A CNC router would have worked just a well. They would have been doable with a hack saw and a drill press.
The first criteria a team should be using is are they maximizing their resources and motivating the team members. Unless you are one of the small hand full of teams, there are always going to be somebody with more resources.
I believe 973 got a 42 with their unmodified 2020 fixed hood.
Difference between 42 and 45 is just how many times you're willing to film.
We could have filmed a billion times and never got above 36 on PP with our bot as designed for 2020. It was designed to shoot from behind the Color Wheel<1>. In the green zone it was hitting 3' below the Hexagon. Amusingly in the 2nd zone we were very consistently scoring 3 points because we couldn't quite clear the bottom of the hexagon, but hitting the lip was deflecting the power cells up enough to make the inner goal!
<1> we had to abandon this plan in competition and shoot from the trench in front of the color wheel because wear-n-tear on the power cells was destroying our accuracy at the longer distance.
Must have run out of film.
We did this by removing two bolts, a standoff and adding a zip tie. Didn't seem too crazy and worked pretty well. We fired at full speed for the green zone and combined hitting the target with the PC on the way up for close zones and the way down for longer shots. Very little of this would have been possible with a 3d target, but after switching to a 2d target we got 45 points after 6 or 7 runs.
Both is best and possible. It's harder to do and my team is sticking to adjustable hood and fixed speed with different zones until we finish everything else we need to do (up close switches to a low speed and once we move some distance away we switch to high speed, with hood adjusting continuously) , and then in the future we want to combine varying velocity and angle so that we can hit the target at a preferred angle of incidence each time (perpendicular to the target).
We got 45 points on one of our robots with a fixed position shooter. The variable angle shooter wasn't ready at that time so we used our variable rpm shooter and we could do it. Our release angle is ~40 degrees.