After months of hard work, I'm proud to announce the release of the new online version of the AMB Robotics Calculator! You can find it now at
The site features nine calculators:
Mechanism Calculator
Find the properties of a mechanism given its gear ratio, or to find the proper gear ratio needed to give the mechanism certain properties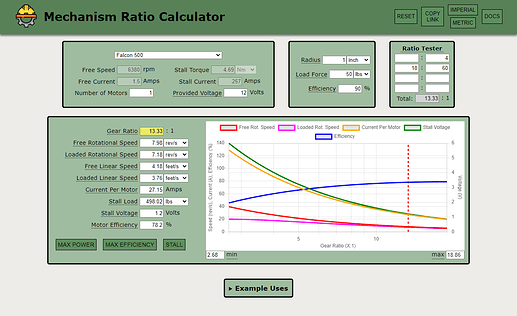 Gearbox Options Selector
Find sets of gears that produce the desired overall ratio, filtered by restrictions on gear sizes and spacing. Useful for designing gearboxes without guess-and-check or testing geometrical interferences.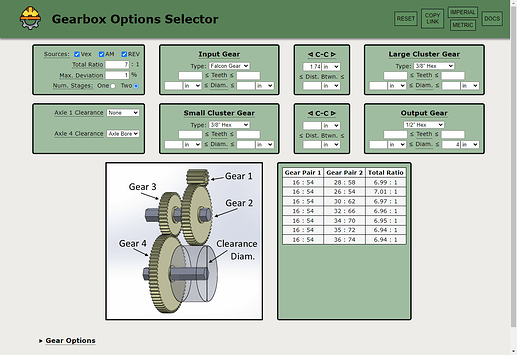 Chain/Belt C-C Distance Calculator
Determine the proper center-to-center spacing between two sprockets or pulleys based on either the belt/chain length or an approximate center-to-center distance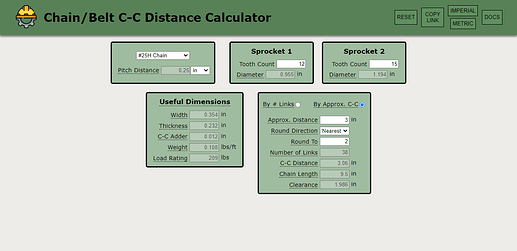 Reduction Swap Selector
The robot is already manufactured and you find you need to change the reduction of a mechanism. This finds the options for reductions of a desired ratio while keeping the same center-to-center distance
Drivetrain Simulator
Find the proper gear ratio for your robot's drivetrain based on the distance you want to travel as quickly as possible. Featuring "predictive stop" mode where the simulator attempts to stop at the target distance at zero speed.
Projectile Trajectory Calculator
Plan the trajectory of an object launched by a shooter based on the initial or target values. Includes a more accurate method for calculating the drag coefficient of a ball using empirical testing (in the docs).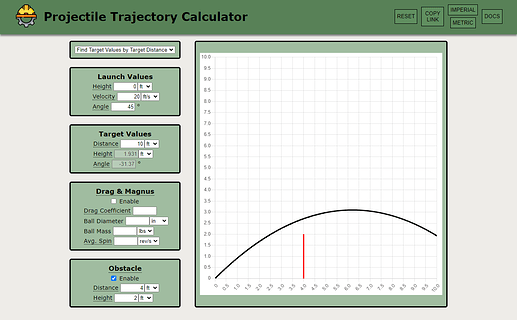 Pneumatics System Simulator
Determine how many air tanks your robot needs based on the number and size of its cylinders and how often they fire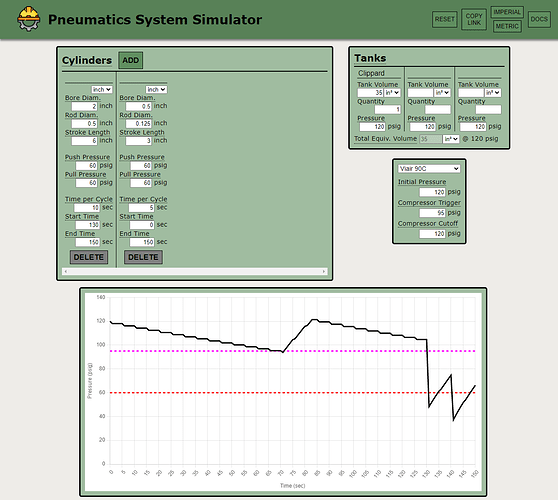 Beam Bending Calculator
Check the deflection or twist in an extrusion of uniform cross-section. Helpful for determining whether a profile or axle will be strong enough to carry the desired load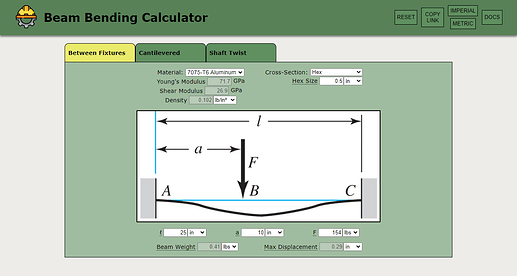 Lead Screw Calculator
Determine the properties of a lead screw based on its dimensions and materials, and convert between rotational and linear motion and force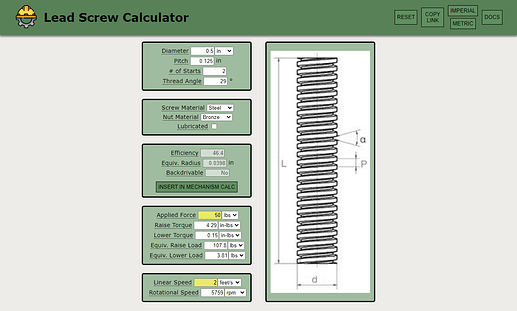 All calculators feature custom URLs to save your calculations for future use and share with teammates. The majority of inputs are available in either imperial or metric units. All calculators are fully documented with derivations for most equations. All of the calculators should work on mobile as well, though I admit the formatting isn't perfect.
Thanks to FUN for sponsoring the calculator website. For any questions, comments, or suggestions, feel free to reach out by PM or email. Happy robot building!