[TL;DR at the bottom]
Hi everyone! Considering how the last time we had an elevator game was in 2019, I'm now the only member left on my team that has designed an elevator (2019 was my team's rookie year and I'm the only member that was on the team that year that is still on the team since everyone else has graduated, and even our current mentors joined the team after the 2019 season). Fortunately, I was in charge of designing the elevator back then as well, so I figured I would take this offseason to design and build an elevator, because even if we don't have an elevator game next year (which, honestly, kind of sick of shooter games, I want an elevator game again), I should at least teach all the current members how to build an elevator for future seasons.
Primary design constraints:
• I designed it to fit within the constraints of our 2019 robot, so 20" wide overall and 42.5" tall (to account for the 2" that would be lost under the elevator with 6" wheels).
• This is also three stages, which in my mind is the max I would ever need. It reaches well over both the scale from 2018 and the rocket from 2019 (7ft maximum on both, 9ft maximum on this).
• We have access to a 3x4ft CNC router and two Markforged printers (an Onyx One and a Mark Two), and a Tormach 1100 PCNC (not used in this project)
• For simplicity's sake, I designed this to have as little "milling" on the router as possible, so aside from the mounting plates for the spool shaft, it's only drilling holes so you could probably do almost all of this with a drill press.
Now, with that said, here it is!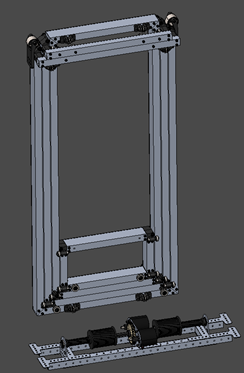 Main features:
• 3 stages
• Cascade rigging
• Two sets of 1/8" UHMWPE cable rigging
• Pulldown and pullup ropes
• Spring tensioned (not modeled)
• CF spring counterbalanced (only set for 10.6lbs each, but could swap these with heavier springs if needed)
• 1 or 2 NEO / Falcon drive at a 10:60 gearing (two motors allows for the ability to climb)
• Currently, can reach up to 108" off the ground while still having 8" of stage overlap
• 1/8" gap between stages
• Current weight: 21.31lbs, plus another ~0.2lbs in cables and ~0.3lbs in cable tensioning springs, and ~0.1 in rivets. Sub 22lbs overall.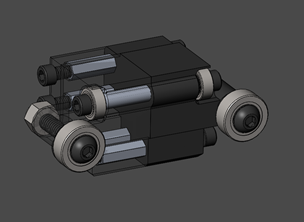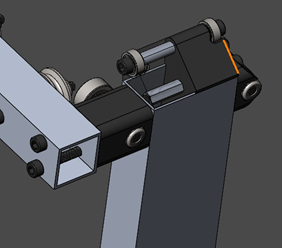 • All of the bearing blocks for our elevator are printed out of Onyx in two halves, then put together with ½" OD #10-32 threaded hex standoffs from McMaster-Carr. This allows for the bearing blocks to be structural and double as both bearing blocks and structural components, and the hex keeps the standoffs from spinning inside the blocks.
• Uses ¼" ID, ¾" OD bearings for the 1" side of the elevator and ¼" ID, ½" OD bearings for the 2" side.
Rigging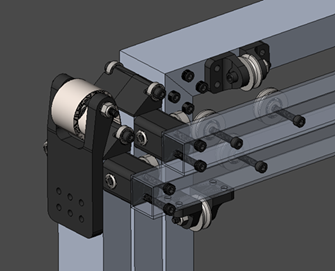 • The elevator is Cascade rigged, which I did mostly because it's what I'm familiar with. You could switch to Continuous if you wanted to, probably (?) wouldn't be too difficult, you would just need to move the pullies around.
• Currently, I have twice as many pullies as needed because each cable run is connected with it's mirror on the other side by a spring in the middle, tensioning both sides at the same time and removing any slack caused by differences in the two sides. You could use just a round pin to turn them 90 degrees instead of these pullies, and I may switch to that later for cost reasons.
• There is also a pair of constant force springs being used to counterbalance, which are mounted to the base stage (as in, the unmoving stage) and slips between the base stage and the first stage and connects at the bottom of the first stage.
• The moving part of the elevator only weighs 11.5lbs currently, so assuming a 10-15lb intake, the two 10.8lb springs are all that should be needed to counterbalance the elevator.
• Really, even with one NEO, the CF springs aren't needed and I most likely wouldn't end up using them, just so I don't have to deal with the potential safety concerns.
Spool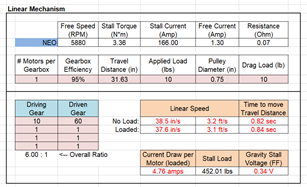 • The spools are, at least in this configuration, driven by two NEOs on a 10:60 reduction, which allows the elevator to reach full extension in under a second while still being able to climb.
• You could easily switch to a 11:60 or 12:60 (since the pitch diameter of those pinions is the same), use Falcon 500s, or switch to 1 motor if you weren't climbing.
• The spools are ¾" in diameter (for the center of the rope, so effective diameter in terms of torque) for the pullup ropes and 2 ¼" in diameter for the pulldown.
• The difference in diameter is because I am pulling down from the carriage, instead of the first stage, so the pulldown rope moves 3x as fast as the pullup rope. If I were to do a 2-stage elevator (which is probably more likely given that neither 2018 or 2019 really needed a three-stage elevator), I would probably do 1" and 2" diameter drums instead.
• The spool shaft is held by a frame made from 1/8" plate and 1x1x0.040" versaframe connected with 1/16" gussets. Most likely, on a real robot, I would just do the brackets on each end directly on the drivetrain rails for simplicity.
• The two NEOs and the gears are in the center of the shaft to reduce twisting or flexing along the length of the shaft
Cost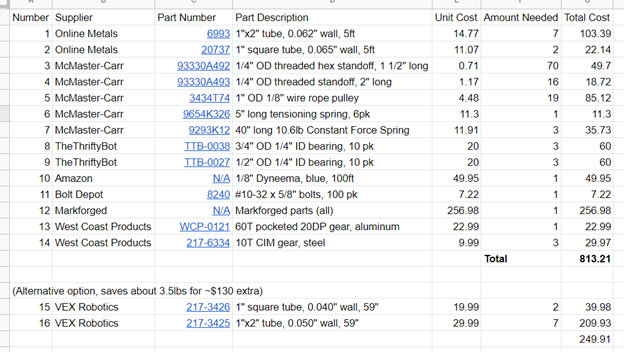 Note: This order form was put together for my team, so it excludes things like fasteners and motors we already have on hand and includes spares for all parts. This is an order form, not a bill of materials, but if someone would like, I could put together a more complete bill of materials.
• The overall cost of the elevator would come out to about $1000 for us, including shipping.
• The main costs are Onyx for the Markforged printers and Versaframe tubing from VEX, with the rest of the money going towards the various other COTS parts involved.
• You can just do normal 1/16" walled tubing which would save about $130 at the downside of weighing about 3.5lbs more in this elevator configuration. Considering the high center of gravity of most of this weight, especially when the elevator is extended, I considered this cost to be worthwhile.
• PLA or PETG would likely work, just would need to take some time to adjust all the fits due to print shrinkage, and you may need to beef up the parts a bit more to account for the potentially reduced strength. (we did use the inlaid continuous fiber from the Mark Two on two parts, the brackets for the rope pullies and the constant force spring, so I would be more cautious with printing those out of other materials. Fortunately, you could probably slightly redesign those to be made from normal angle iron.)
• You could also reduce the number of pullies used by about half, saving ~$40, if you used a round dowel instead of a pulley to redirect the rope for tensioning.
Thank you! Let me know if you have any questions or comments, or if there's any other ways this could be modified or improved. Best of luck to everyone!
This one's for you, Rohit:


[DR;TL at the top]
LINKS
Order form: Order Form 2021 Offseason - Google Sheets
Solidworks/STL files Download: Custom Elevator - Spring 2021 - Google Drive
STEP File Download: https://drive.google.com/file/d/1G7L2N8XRK6MHHMW6LW9qZp96Hpce3HM9/view?usp=sharing