Hey AndyMark people. This early date is the best move any supplier has made in years. A couple things on here are exactly what we were looking for. Nice, nice job.
The 2020 meta is going to be steamrollers.
Love, love, love the early release date. THANK YOU!
The CAN connector board is sweet, but I just can't justify $5 per board / $60 per robot for a single-layer PCB with a single component.
If I buy a CAN connector, I'm buying 20 connections worth per robot (hi/lo for ten controllers), for two robots, and I'd like to spend no more than $1 per connection. I'm there with solder/heatshrink and Wago lever nuts, and I'm very close with Vex 276-4128 header pin locks. If you can get to $3 per assembly soldered, I'd be discussing them with my team, and I'd pull out my credit card right now as a $2 unassembled kit.
I do like the multimount kits, and will definitely be thinking about moving over from Ozzy's product. Plus the manufacturing geek in me adores that you're selling wheel extrusions! I'm very tempted to pick one up, even after cross-country shipping, to have a prop for volume manufacturing discussions

Not only the early release date but the IN STOCK NOW aspect is awesome. Now let's hope the other suppliers take notice.
We're talking about you, VexPro.
Maybe a few other COTS suppliers, but mostly just you
A few more things…
AndyMark is proud to announce an update to one of our long standing products, the Snow Blower Motor!
Brushes are still cool, right?
Everyone's favourite motor for indexing and small jobs in tight spaces on a robot is back with everyone's favorite shaft, 1/2 in. hex! This motor and gearbox combo originally came from a snowblower assembly, but now has a custom shaft just for AndyMark. Use our half-hex hub to transfer power directly or sprocket and chain to the mechanism of your dreams! The shaft also now has a #10-32 hole in the end for easy hub/sprocket retention.
AndyMark is also proud to be a retailer for the brand new Falcon 500 Motor!
AndyMark is also offering a pre-built version of the Falcon 500 that includes the Short Spline Shaft. This is an attractive option for teams who are looking for an out-of-the-box configuration of this powerful motor that is ready for planetary gearboxes, like our CIM Sport Gearbox. No need to cut the shafts, they're ready to go for your needs.
As a note, we're still working on other products (gears, pulleys, etc) that are compatible with the new spline shaft that the Falcon 500 uses. We're not quite ready to show these products off yet, stay tuned.

Sincerely,
-Nick
The Falcon 500 page says it has 780W power, double the power of a NEO, and stalls at 257A, which is insane. It also has the same bolt-circle as a CIM, so easy attaching, and built-in 2048 bit encoder with motor controller. This motor makes me wish I was still a student!
For those who are just as excited about it as I am, there is another thread here on CD with more info on the motor such as power at 40A/12V. Great job to all of the companies involved!
Any idea of when we can expect these products to go on sale? We are looking at falcon 500s for our drive train but feel that we can't quite use it with the spline shaft.
The Snow Blower Motor with Hex Shaft is already available for sale. Currently, we're anticipating the Falcon 500 to arrive in our warehouse close to the end of the month.
If you'd like to be notified as soon as the motor becomes available for purchase, sign up for the in stock notification email! To get the link to show up you'll need to select one of the drop-down options.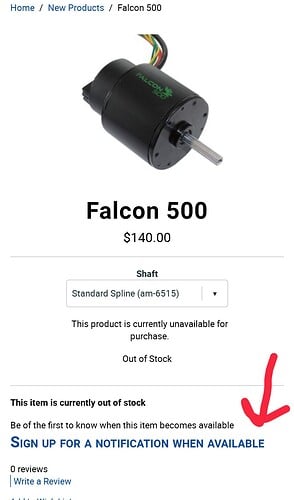 How about the pinion gears that can interface with the falcon 500? If if seen correctly, the special gears/pulleys have not been released yet and nothing else fits on the falcon shaft
As my colleague @Nick_Lawrence mentioned, we're still working on other products. I'm sure we'll be announcing a release date in the next couple weeks via social media channels, our newsletter, and on our website. Stay tuned!
With this many watts and amps, I can see lots of people browning out when they exceed the amps of what the controllers handle and voltage drops trigger the RoboRio.
You can also get an 8mm shaft here:
This mounts in the same manner as the other replacement shafts, and allows you to use existing 8mm bore parts that you may already have or are available.
Do we know if FIRST will consider this a legal modification of the motor?
If vex can sell replacements I don't see a reason others cant.
It's not exactly a functional replacement as much as it is a customization/modification for convenience purposes. BUT… FIRST allows teams to modify their motors by cutting the output shaft shorter without having a cow, (man,) so there's hope!
I wonder if one could argue that the motor shaft doesn't count as its "shaft" for the purposes of the rules since the Falcon "shaft" is the six bolt circle and the shafts you buy are just accessories, like various pinion gears. Hopefully the GDC can keep teams from being shafted by differentiating between a SHAFT and a shaft.
I'm confident replacing a shaft which is not integral to the motor operation would fall under:
Perhaps we can find out for sure before kickoff!