The Maroon Wall teams on the 2007 Championship alliance (180, 987 and 177) are saddened by this decision too.

As a fellow maroon team, 107 is deeply disappointed
Any word when the purchase link for the custom wheels will be sent to people who filled out the survey?
Sorry for the delay, the email should be going out shortly. The stock has been ordered on our end, so until mid January it won't matter when you get your payment in as long as the SKU you are interested in is still available. We will only be doing one run this year. If we have leftover product after survey respondents have had a chance to order we will open it up for general sale.
Do we know if any of Rev's NEOv1.1 stock and SparkMAX controllers will be headed to Andymark? They were available on Rev's website but unfortunately we are unable to purchase from them due to a credit card issue with our team.
There was a batch of these sent to AndyMark, I would recommend entering your email on their site to be notified when they are available.
Not sure if this is the place to ask, but what's the latest good word on when roboRIO 2.0's might be back in stock? The website still says mid-January, but what wasn't sure if there were any more specific/recent updates especially considering the state of supply chains these days. Thanks in advance! - Ryan
The latest batch has officially been picked up by FedEx from NI, so they should be in stock next week. Be sure to put your email in to be notified.
Welcome to Week 3!
We have been super busy shiping all your orders (Thank You!) and answering your questions, but we also managed to sneak in some late additions to our product line…
Everybot Parts: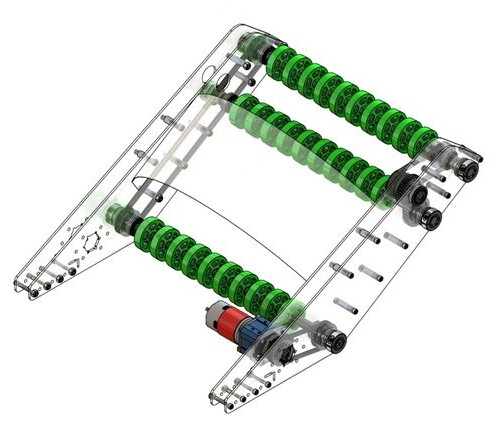 We are proud to be working with the Everybot team again this year to provide the hard-to-make parts of their design to as many teams as possible. This year we will be selling the intake plates as well as a complete intake kit. We expect the plates to be in by the end of Week 3 to early Week 4 which is when we will be able to start shipping these products. We are very confident in these dates, so we are opening them up for sale today with a "Ships in 1-2 weeks" note. We have already built and tested one of the intakes ourselves, and they work great! Stay tuned for the complete list of Everybot parts available at AndyMark to be shown here early next week.
This all new line of #25 and #35 sprockets feature a symmetrical hub with the sprocket teeth in the center so there's no wrong way to install it. The hub also doubles as a bearing boss which we are moving towards putting on all our hex bore items like gears and collar clamps. These prevent rubbing against the bearings that your shafts are mounted on. Both types are 1/2" wide so they are interchangeable with each other, or standard gears, without worrying about changing spacers.
These new plate sprockets for both #25 and #35 chain aren't quite as exciting as the new hub sprockets, but we did have some updates after 15+ years. We have gone with some new sizes to make the line follow a more logical progression. The teeth will now always be chamfered, and the overall thickness will always be the same per tooth type. Also, the most obvious change is the addition of more holes. They still have the ubiquitous 6 hole 1.875" bolt circle, but since we like playing nice in the sandbox, we decided to also add in the 6 hole 2" bolt circle for motion components that @Greg_Needel introduced this year. Some of the larger sprockets also feature holes on a 1"x 0.5" pitch to match holes in REV MAXTube, (or any 2x1 really) to assist in making arms.
All varieties of the new sprockets are anodized for a nice clean look and feature the part number, tooth count, and chain type etched directly on the sprocket, which has already paid off for our receiving department when they suddenly had 6 pallets of sprockets to deal with! Besides am-3999 we will be phasing out all our old sprockets in favor these new styles, so if your design relies on on old tooth count, get them while you can. All the new sprockets are in stock and shipping with regular orders.
ToughBox S: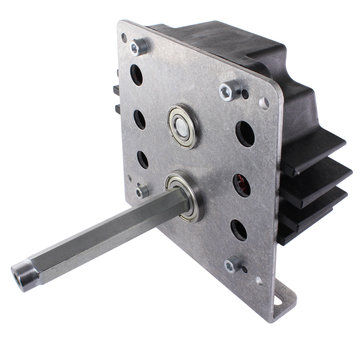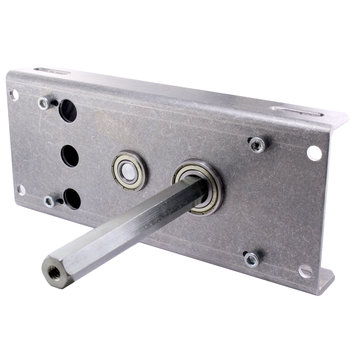 Another AndyMark classic getting a refresh, the humble ToughBox. The new ToughBox Mini S and ToughBox Micro S have a few subtle improvements that should make the end user experience much better. There are now more options than ever to get the exact gearbox you need right out of the box. We even added a new ratio (9.13:1) and the option to get the gearbox with weight relieved gears for teams looking for every last pound. The most important change in my opinion is the gears are now ALL standard and symmetrical, gone are the days of binding gearboxes due to gears installed backwards. This also means, if you want, you can even order a "no output gears" version and stick in some aluminium gears from @R.C. We are still waiting on a couple gears here, but some options are available and shipping now.
Colors Update!
The colored compliant wheels that were pre-ordered have all been shipped out and we are just about ready to open the page up for regular orders of the remainder. This link is a CD exclusive. We will be adding them to the NEW page and search once we have actual photos. If you are very particular about your branding I suggest you wait a few days for those to go up.
Sad there were no rainbow collar clamps in First Choice this year? We got your back! The colored 1/2" Hex HD Collar Clamps showed up this week.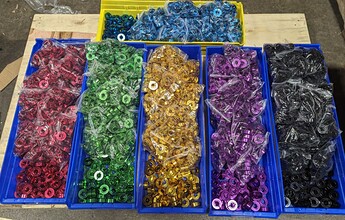 Unfortunately, the rest of the new collar clamps we were planning on having this season have been delayed until early March.
As always, keep an eye on the NEW page, for random little things that we put up as we get to them.
I noticed a new 7/8" OD x 3/8" Hex ID bearing listed.
I remember AM had a version of this bearing (10 years ago…
) but it was discontinued due to strength issues. I specifically remember having to modify a 2012 gearbox design in 2013 to use a 3/8" round bore bearing instead and turning down the hex shaft. I did some digging, and the old bearing was AM-0439 (FR6ZZ-Hex).
Looks like this new bearing is 9/32" (~.281") thick instead of 1/4" (.250") on the old bearing, the inner race is thicker, and there's no flange. This should make for a more robust solution, but does AM have any load/speed rating guidance for the new bearing?
The New Bearing: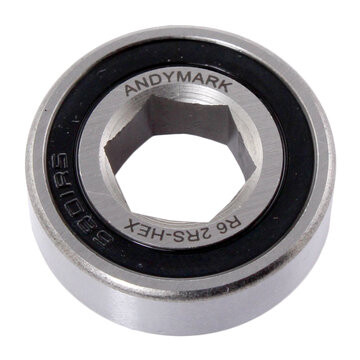 The Old Bearing

We just built up our elevator bearings kits today. These things are one of my favorite FRC products to launch in a long time! Love that they use real cam followers.
Highly recommend!
Did this already come back into stock and is now out of stock, or is the batch arriving soon?
The am-4489 is actually the spiritual successor to am-0439. We are much more experienced with custom bearings now, so we thought we would give this one another go. Load ratings are now listed on the page. Not quite a drive train bearing, but MUCH better than the old one. We don't publish a speed rating, but they will spin at speeds seen in FRC with no problem, I would expect the hex fit / vibration to be the issue you encounter when going to extremely high RPMs.
Yes, we did get a batch of a few hundred last week that have already sold out. We expect another batch before mid February. As always, put your email (back) in to get notified. We apologize for the delay, we are still playing catch up from chip shortages.