We're excited to announce PhotonVision, a fork of Chameleon Vision. PhotonVision hopes to provide an open source vision solution that makes computer vision accessible to every FRC team, regardless of financial resources or technical skills.
PhotonVision's team split from Chameleon Vision because of a disagreement over governance and transparency. That experience has ingrained a strong commitment to the following organizational goals:
Complete transparency.
Creating a welcoming environment for every new contributor.
A focus on listening to community and contributor concerns.
A consensus-based approach to leadership.
If that sounds like something you want to be a part of then we'd love to have you—we need input and help from many parts of the FRC community. If you're interested in writing docs or frontend (Vue.js) or backend (Java) code we'd love to have you. We're especially in need of developers with Vue.js experience. Reach out to us on our Discord server or DM myself or @thatmattguy to get involved. Our next contributor meeting is July 3rd at 3:00 PM EDT on our Discord; all interested contributors are welcome!
Here are some helpful project resources:
Docs: https://docs.photonvision.org
Github: https://github.com/PhotonVision
Discord: https://discord.gg/wYxTwym
Trello: Trello
Here's a UI sneak peak (currently very similar to Chameleon, but we're planning on making some big usability improvements):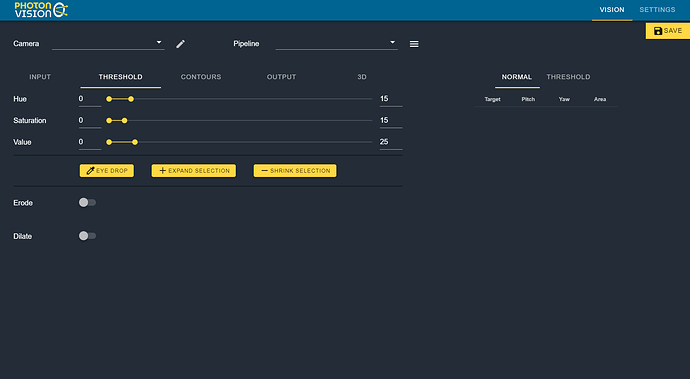 Now for the part where the community comes in: what additions do you want to see in PhotonVision? Leave your thoughts and ideas below!