SightWalk
Hi everyone! My name is Aditya Oberai, a member of Paly Robotics, FRC Team #0008!
Paly Robotics is proud to present our 2021 Innovation Challenge submission, SightWalk, a Sidewalk Navigation Device for visually impaired pedestrians using CNNs! We need your help to continue developing our project to expand its positive impact on visually impaired users!
Tool Demo Video: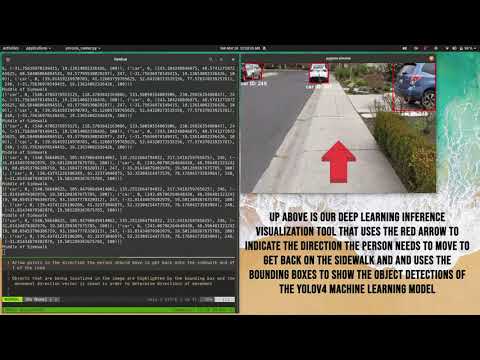 A bit of context:
In the past, our team's outreach projects with AbilityPath and creating communication devices for quadriplegic individuals has inspired us to continue looking for ways to benefit those with disabilities. These rewarding experiences motivated our team to create solutions to aid the disabled and our unique position as a non-profit FRC team paired with our engineering capabilities and discussion with blind specialists led us to pursue a solution to this problem.
Through communication with blind specialists and teachers, we found that blind pedestrians face numerous problems when walking outdoors that threaten their safety. These individuals often drift off of sidewalks and into roads (which can lead to injuries and hospitalizations), face difficulties identifying hazards (such as pedestrians and vehicles), and are unable to identify street signs in their environment (leading to accidents at intersections). Unfortunately, none of the existing solutions have adequately addressed the needs of the visually impaired – each suffers from either low accessibility due to cost and availability, such as Object and Mobility training, or low utility, such as electronic canes. Similarly, guide dogs are difficult to obtain due to prolonged waiting times and an average cost of over $60,000 over a ten-year period.
What is the SightWalk?
SightWalk is an entirely open-source visual assistance and sidewalk navigation device that helps visually-impaired individuals navigate outdoor environments. SightWalk uses neural network models that detect objects, such as people, cars, bikes, street signs, and more, and a custom trained deep neural network model to determine an individual's position relative to a sidewalk. While the user is walking, a chest-mounted device using camera data evaluates the user's surroundings and determines if the user is approaching a hazard or has drifted onto the road. The program sends signals to the chest-mounted device that vibrates and gives audio cues to alert the user of potential concerns, aiding users in the goal of safe outdoor exercise without the assistance of guides.
SightWalk promotes physical and mental wellbeing for blind travelers by allowing them to independently engage in outdoor activities without the need of a guide. This independence is key to the mental health of blind individuals and increases their freedom to exercise. We believe that assistive technology, because of its continually evolving feature sets and its availability and value-proposition that existing nontechnical solutions cannot provide, is the future of navigation aids for blind individuals. At the forefront of this, our team envisions that the high accessibility and utility Sightwalk provides can help address the challenges blind individuals currently face outdoors with the goal of promoting more exercise, a reduction in accidents, and a better quality of life for blind individuals across the world.
What is open source and why is it important?
SightWalk is entirely open source, meaning all software, CAD designs, and image datasets are public. Public availability of projects are often the most effective way of fostering community growth onto a project and the continued improvement of a piece of tech. There is no better way to do just this by leveraging the unique and varied capabilities and interests of FIRST students through both the FRC and FTC programs. From the software to CAD design to data collection, the FIRST community is especially well equipped to take on this challenge, and we truly believe that the sharing of expertise into one group project such as this one can lead to the end result of a better and more advanced navigation tool for visually impaired individuals.
How can you help?
We are asking you to help us continue expanding the SightWalk and improving its codebase, dataset, and CAD design through continued contributions to the project as outlined in the Github readme. Your help is crucial to SightWalk's success as a device to help blind travelers, and we hope that with your contributions, we can effect real change to improve the lives of the visually impaired.
On behalf of Team 8, I am really looking forward to seeing what can be done with this project moving forward and so do not hesitate to ask questions or create Github issues for any clarifying questions or suggestions! We really value your input, and both I and my team have learned a ton from this project and it will be really exciting to see what can be done with it in the future with your help.
All our software and CAD designs can be accessed on github.
There is a lot more about the project from a technical perspective here if you are interested! This includes images of the CAD design and physical build as well as software diagrams outlining how the code works. ^