First and foremost, apologies for another bumper rules post. Our is having some trouble interpreting Rule R410 in terms of what it means to "support 1/2" at each end of each bumper wood segment must be backed by the frame perimeter." How much of the 1/2" of the end must be supported? Is it just a portion of it or must the full 5" (+/- 1/2") of the wood piece supported in this 1/2" zone?
Specifically, our team is looking to go with two C-type bumper pieces that cover the entire side of the robot and 6" of the front and back of the robot. Our current frame/rails for the front are shown. Would the shaded areas, which represent the unsupported portions of the 1/2" zone, need to be supported? Or is the frame/support sufficient as-is?
Front View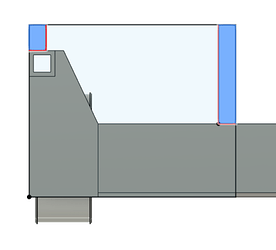 Side View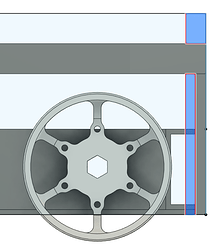 Mahalo in advance for any guidance you can provide!