I have 8 RC cars. 3 gas. 5 electric. Anyone else into RC?
i have 2 really really old rc cars…
Nataku,
Vintage cars are cool. What kind do you have?
I have an old one you've probably never heard of. It's called the Panda Danny Thompson's Stadium Racer. I also have a Losi XXT thats a few years old.
not unless you count the robot as an RC car

I've got a Traxxas T-Maxx
i really like rc cars, but i seem to have really bad luck with them.
i got one pretty good one for my birthday one time, but my friend "accidentaly" drove it into his pool. after my mom got me a new one, my dad "accidentaly" ran it over while leaving for work. are there any r c cars that indestructible?
Hehe you could spend lots of money and make a T-Maxx pretty %%%% strong. I have a Duratrax evader looking into buying an gas powered touring car. Also i get to go to watch OFNA nationals here in Miami this year. Woo.
yea, i have around $1,000 in my maxx and i plan on getting a new engine for it soon. i think i'll go with an O.S. .15 CV-RX. that'll be another $200, but my birthday is coming up…
Cool to know so many people are in to RC. I actually enjoy doing some custom things as well. I converted a Traxxas Stampede to 4x4, made a brass tube frame sandrail chassis for my Losi XXT, and I am currently working on a tube chassis for my Tamiya Clodbuster. Tube frames are fun to build and cost only about $30 in materials. My current list of cars is as follows:
Panda Danny Thompson's Stadium Racer
Team Losi XXT
Tamiya Clod Buster
Bolink Digger
Tamiya M-03 Mini Cooper
Traxxas Stampede 4x4
Associated RC10GT RTR
Traxxas Nitro Stampede
I like to have a lot of cars rather than trick out one car.
Ian W.,
The robot is kind of like a big RC car but that's not quite what I meant.
Oreocookie,
I actually drove a toy RC into a pool by accident once. It worked fine but just a little slower after a few days of letting it dry. There is a company called Duratrax www.duratrax.com who offers a 6 month replacement on any broken plastic parts on their gas cars and a one year replacement warranty on their electric truck, the Evader. As Andrew said, you could spend a couple thousand dollars and get all the aluminum and titanium upgrades for the T-Maxx but that's pretty pricey. At $170 the Evader is a great deal. The best way to not get a car broken is to be careful in driving.
Andrew,
OFNA Nationals must be great with those 1/8th buggies flying over massive jumps. Also, how do you like your Evader?
fast frank,
Don't let that T-Maxx eat up too much money. You can literally spend thousands on that truck transforming it so much that no part is left stock.
i accidently drove my t-maxx into my pool one time. the reciever batteries died and i had no control. i had to replace a servo and i rebuilt the engine and it worked fine.
heh, about the robot…
i took it home this summer, in hopes that i could work on it a little (which i still have yet to do). i'm also trying some different stuff with the code. so, i was out on my driveway with the robot one day, and my dad walked out. he took one look at the robot, and said "wow, that's much better than those dinky RC cars you used to have" (i had the cheap electric ones from radio shack). i couldn't help but laugh at that, and all the great looks i get from people driving by my house :p.
The evader is a fun car to have and drive. The servo needs to be upgraded i already lost control of it and broke the servo saver, but the StressTech gauentee made it free to replace. I got the parts in 2 weeks after i sent the broke peice in. THats always a nice thing. Its pretty quick mostly stock (28mph about) and the ESC can go to a 16 turn motor and its not there yet. The shocks work great there is some flex in the frame so sometimes its hard to keep striaght over bumps. It is a good investment for someone like me who doesnt have the time to keep a expensive one running. But now that summer is here i think i may go get a Gas car. Miami has r/c weather always! well except the rain but ya know.
Gee, there must be some sort of force lurking in swimming pools drawing all of our RC cars in.
Ian,
We took our bot home too and pulled my friend's Ford Ranger with it.
Andrew,
I think the ESC in the Evader is rated only for 20 turns which is the motor that comes with it.
check this out, somebody made a battle bot out of traxxas e maxxes. it uses 8 motors and a lot of batteries.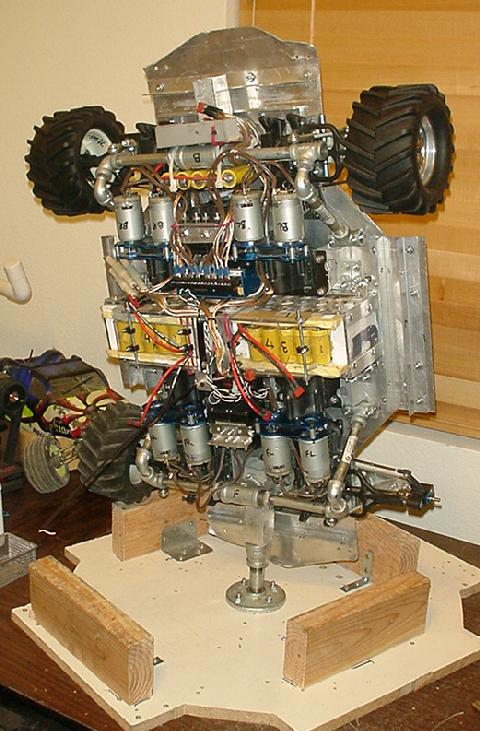 I have a Kyosho Inferno MP7.5 1/8 scale it cooks pretty good.
My baby is the Nexus 32 Helicopter, why drive… when you can fly
I think it would have been easier and would have worked better to build a battle bot the conventional way more like our first bots. The E-maxx thing is still cool though.
*Originally posted by sanddrag *
Ian,
We took our bot home too and pulled my friend's Ford Ranger with it.
wow, that's a powerful robot. i haven't tried pulling any cars, yet…

I remember when I used to drop my RC car down the stairs so I didn't have to carry it down. That thing was pretty tough.
Matt,
How hard is it to fly the chopper? I have an electric trainer plane but I haven't flown it in about a year and a half.
Ian,
Our bot uses only 2 drill motors to drive it. The drill gearboxes are on low speed and the gearing from after the gearbox is 10/64. We have 10 inch diameter 3 inch wide wheels. We could pull more but our tires were slipping. The robot weighs exactly 130.0 lbs.
jon,
I quite often drop my cars on to the ground and drive them down the stairs. The suspension takes care of it all. However, I don't think I would drop it down the stairs.
I've got a really old car… a Kyosho Pro-x… it started out as a buggy but I enlarged the front forks and replaced the 3" shocks with 4" ones. Kinda fun having the extra ground clearance.
I also fly planes. Been flying for a little over a year now, and I think this is my 4th or 5th plane. I slightly overpower my current plane with a Supertiger .51 … nice engine

I also have a small electric pylon racer… runs off a speed 400 motor and about 7 cells. No where as near as fast as my glow engine, but still kinda fun.