I find shooting cargo into a basketball hoop very fun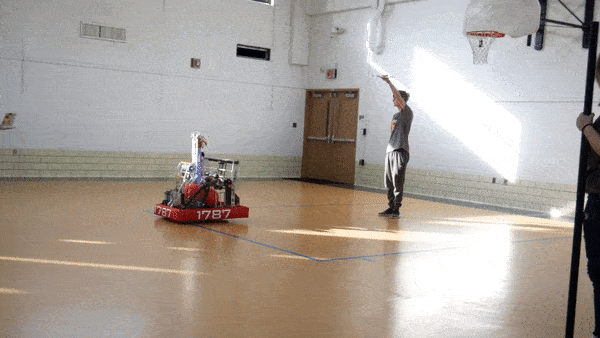 We plan to get ours out and about this summer. Though not just for fun but more as a recruiting and fund raising tool.
We will use our 2022 robot to show off, but also always bring out 2013 robot to shoot Frisbees. The kids always love it
We were training a new driver, and since our schools main area has carpet, (no one knows why, its new) we decided to show it off at the same time. Spooked the janitor, and made quite a few teachers and students laugh.

We use our robots to show off during elementary STEM nights, Board of Education Meetings, and other events. We have used our 2018 robot, since it is still complete and it has a great history (3rd place at Detroit CMP), but we are using our 2022 robot this year because it is also fun, and easier for us to use. We give the kids the controls for driving, at a very slow speed, and we have them shoot balls into the crowd or try to get them in the hoop.
We tend to unceremoniously strip down our bots for parts recovery, but we still have have our 2013 frisbee shooter that's a crowd pleaser (converted to hobby control), and we will be keeping our 2022 bot together as well. For parades we use some parallel power squids made out of retired battery cables to hook up extra batteries so we can make the whole route without having to replace batts halfway round or something, and often add a "slow mode" to allow anyone to drive at fairs or school events etc without worrying about damaging things. Kids love anything that shoots anything out but even just seeing a competition bot driving is enough to impress most crowds.
We've talked about driving our bot in parades instead of trailering it, but we've had concerns about wear on the wheels doing that. Has this been an issue for you? And which wheels do you use?
Depends on the wheels, we mainly use 6" wheels on a tank drive, so swapping is easyish. Pneumatics are great for parades, if we have plaction wheels on for competition, we will typically swap them out for retired higrips afterwards. I'm not sure our frisbee bot has EVER had it's wheels changed so they are 10 year old higrips now. We're in Maine so there aren't really any parades mid comp season here, typically a one time swap for us
We're planning on making a t-shirt cannon robot over the summer for next year's students to use at games. We will be using our 2014 robot for outreach because it has a giant catapult and that's pretty sick, and our 2022 robot since it's the newest and arguably best the team has ever made.
Thanks for sharing your experiences. We typically run 5" Colsons (WCD) for the season and they definitely show wear at season end. I wonder if we could squeeze in some 6" pneumatics — those seem like a good suggestion. Like you, ours would be off-season like 4July etc.
Pro tip, if you are taking your robot to demos where strangers are allowed to drive it, make sure to add motor output limits to your code.
Physically Disconnecting 2/3 motors per side worked well for this in the triple-mini-cim era, but yeah, definitely soft limits for falcon drive.
We drive the in-season wheels down the parade route and then swap them before off-season comps.
The only hard year was 2017 when we had 3.5" drive and got caught on reflectors, anything 5"+ has been fine on city streets and we've been at 6ish most of the last few years.
Pretty much any game piece works ok for playing with crowds, but the ball games are the best.
We brought our 2022 and 2020 robot to a local STEM expo this past weekend. We did some driver's practice with our 2022 robot and then had our 2020 shoot power cells at those trying to catch them. We also tried to challenge some Stormtroopers, didn't end so well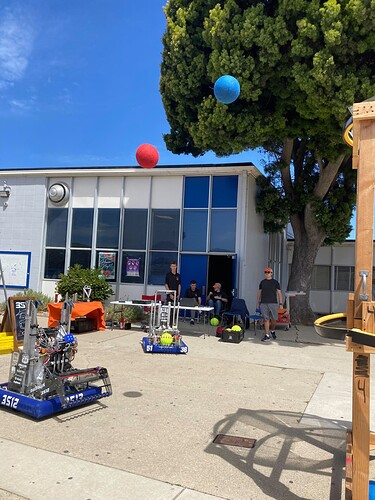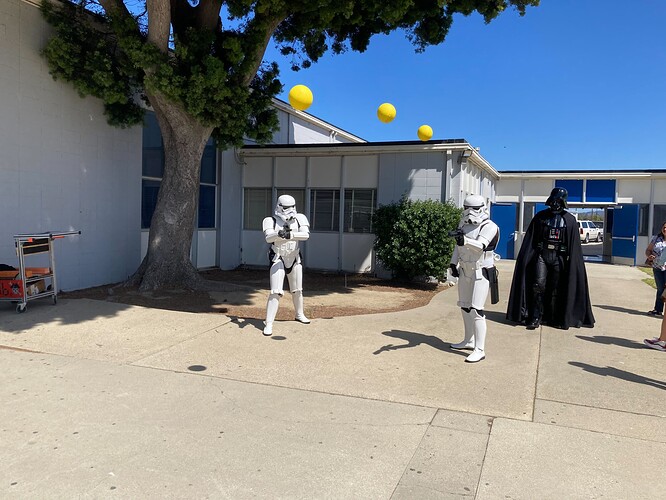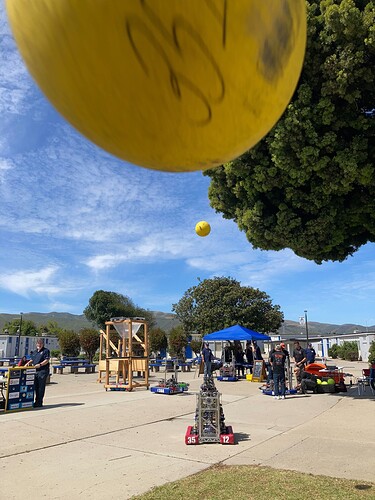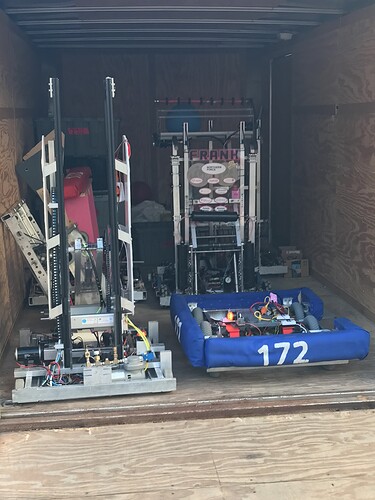 We are working on 4 robots to have functional to show people this off-season.
Robot w/ bumpers: Squishy
Robot behind Squishy: Frank (2022 comp)
One in front of Frank: Speedy
One next to Squishy: Scotty (2018 comp)
In front of Scotty: random chassis that aren't finished
hold up your 2022 comp bot is named frank? Ours is also named Frank… There can only be one
/j
We brought our robots from 2017 and 2012 to our town's spring fest. We demonstrated both of them, and allowed spectators to try driving and scoring some of the fuel cells or basketballs.
I like the slow mode idea…I might have to steal that.
Pro tip: Have someone that is diligent with their hand over the disable key (enter key).
Not really. My team has a small demo robot that we use. The advantage of it is that it's a lot less risky to let people drive the demo bot than it is to let them drive our competition robot. It's also good for transport, the demo bot weighs around 20 lbs compared to the 110 lbs competition robot.