Apple Pi, Team 2067 is pleased to post our offseason swerve mechanical design and Labview programming files.
This past summer we designed and built 2 different configurations of modules, both featuring 3d printing. After that in the Fall we designed and built another which is presented here.
The swerve module features:
3D printed pivot pieces (4) + 2 simple 2D plates, the rest is all COTs.
The Lamprey encoder (221 systems) is incorporated to directly measure the pivot rotation
3.0" ID, 3.5" OD main bearing from TheThriftyBot (aka FRC Costco)
Falcon Drive Motor (prototype made with the Neo because ….)
RS550 steering motor with a 69:1 ratio (BAG or 775pro also can work with minor tweak to plate)
3 in. Colsen wheel (or 3" 3d printed treaded wheel)
AndyMark 2:1 bevel gears
Currently geared for 14.45 or 12.85 fps (theoretical with the Falcon)
4lbs. 1oz. total weight, (with NEO drive and not including the 2 motor controllers, but everything else)
Currently 3.25" from frame edge, and 8.1" tall with Falcon (7.2" with NEO). Though we really like the Mean Machine closer to edge configuration – which could get this to 2.25" from edge.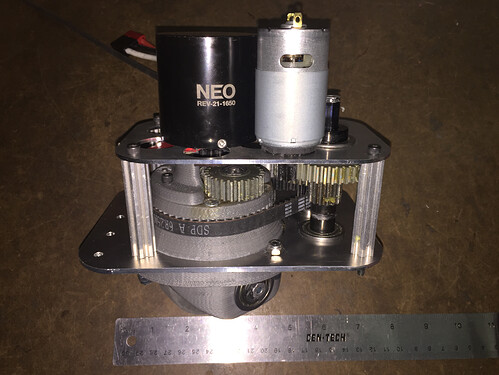 Labview Programming:
Offseason swerve code, can support either Sparkmax or Talon SRX for drive, Talon SRX for steering (motion magic), Pigeon IMU, Lamprey encoder. For anyone desiring a more generic Labview swerve (all on RoboRio, and an analog encoder) please look at our 2015 swerve code, searchable on CD.
We also are including our Labview training package, accompanied with a Labview project. This was used for training of our mostly new programming team this Fall, and is used to augment the Secret Book of Labview, which is great for introducing Labview, but we add in some examples for incorporating the Talon SRX features. This is a work in progress, more features will be added next year, along with better commenting in the project files.
Apple Pi 2019 Offseason Swerve Assembly.zip (10.1 MB)
2019 Training Robot Project.zip (11.6 MB)
2019 Offseason Swerve Update.zip (304.0 KB)