I don't see any rules against an aquarium in the pits (reason unspecified), am I missing something?
Throw a crustacean in there and it brings a whole new meaning to Crab Drive.
"reason unspecified" no, specify it
understandable, apologies
Your experience may vary but at a few regionals people have had trouble with having just a few bottles of water in the pits, so by that logic an entire tank should be an even bigger problem.
Gentlemen, a short view back to the past. Thirty one years ago, Dave Lavery told us "The rules also never explicitly say that I can't park a Boeing 747 right in the middle of the play field". Last year, Sean Lavery told us "There's no rule against sneaking into your opponents shop and hiding all of their roboRios in the ceiling tiles". Finally, today, Ethan Braun noted "I don't see any rules against an aquarium in the pits". Question for you both: is FIRST Robotics Competition rules lawyering today too complicated?
The aquarium doesn't necessarily have to be filled with water… although then it would be a terrarium.
is there a rule against live animals that aren't freshmen?
Didn't a team bring a goldfish driven robot to Detroit Champs a couple years ago?
Can you repeat the question?
Less rules, more? Or less and more communication with your mentors?
If the Miami Marlins could do it why can't we?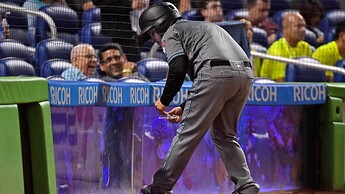 Oh wait it is for the same reason they don't still have an aquarium behind home plate. Because it is a bad idea.
They declined to rule against trained monkeys, so a pit aquarium seems like a no-brainer.
Not a great comparison. Parking an airplane on the playing field or hiding other teams' roboRios is most definitely going to have a negative impact on other teams or the competition, whereas an aquarium merely has the potential to wreak havoc.
Just remember - Goldfish need 20 gallons minimum, 30 for larger fancy goldfish. Really you should aim for a standard 55 gallon or larger for a single or pair of goldfish, even though ideally they're pond fish and should be kept in a significantly larger aquarium. For something that would fit in a pit, I highly recommend a school of neon tetras. They are more comfortable in a smaller tank size plus they are really impressive aesthetically.
Besides the "fun" factor my gut reaction to this was different than most.
As a fish keeper myself…goldfish shouldn't be in bowls to begin with much less stressed in a changing environment where multiple factors can actually kill the fish.
If that fish is real, this is messed up. If the fish is fake, I guess this is a cute idea but real goldfish shouldn't be in a bowl and I have no idea why people still believe they should be in 2023. Let's not contribute to the myth that a goldfish can live in an unfiltered bowl comfortably and in great health for long.
If the fish is real I don't support animal abuse and neither should anyone.
Is it really rules lawyering if it isn't complicated?
Don't you know that lawyers bill more for simple stuff, because you should have known better?
There is no particular rule against it. However, that doesn't mean it's a good idea. Last I checked, absolutely nowhere has a law or rule or regulation against running head-first into a brick wall…