Thanks Ryan, If only I had your knack for identifying what FRC folks want

Just don't sell throttle motor accessories and you'll be fine

I agree with Adam. With no documentation in drawings and CAD, our team would not purchase this as well. Any news on this front?
I noticed that in the first picture, the calibrated piece of wood has returned. Will prints be provided for that as well?
Here's a sneak peak at the gussets we have running. 7075-T6 0.08 inch thick material. .197 holes spaced at 0.5 inches. The L gusset weighed in at 10g (.022lb) and the T gusset 12g (.027lb). I was wondering if people wanted them black anodized, it would be a decent portion of their cost (under $5 target).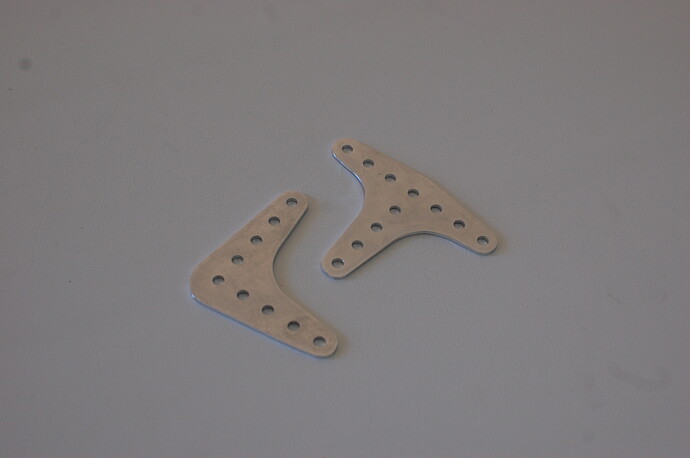 We could always use sharpie
this is not meant to throw shade on anyone
Can you add a poll choice to offer both anodized and non-anodized options, or is that not an option?
I could, and I might still offer both options, but right now the poll gives me an indication of what percentage I should get anodized.
Those gussets look cool. I'm an aesthetics guy
@Andrew_Duerner When can we expect the gussets to be in stock and shipping by? Also, will there be an option to purchase the encoder included with the turret, separately? I'm uncertain if they are the same as the Armacoder or not.
I assume you've done the torque calculations to minimize the gusset weight vs effectivity; the contours at least look right instinctually. But no; not interested. Especially if black anodized!
[OBTW, what happens if you don't do a mitered joint, but a lap joint with this profile, because that's how rectangular tube and gussets are normally used?]
Is there an ETA on CAD models for some of the new products? Specifically interested in the turret.
Working on the CAD and other documents right now, hopefully by the end of the day/evening.
Now that neo550 specs have dropped, are there any plans on supporting the neo550 for the new turret?
We ordered some NEO550's and it does seem like a nice small package. We would have to machine up a new mounting plate and source a different pinion gear, but it should work. I'll look into it further, but it would be 1-2 weeks from shipping at the earliest.
Sweet, thanks for getting back quickly!
We just bought a turret with the hopes of using a Neo 550 not realizing you were about to release a new revision. What kind of modifications would we have to make to the old one to support a neo?