We're running a bang-bang control system at 100Hz for our flywheel using the integrated Talon FX encoder and are seeing some odd behavior.
In this graph you can see the issue. The blue line is the measured RPM, the green line is the desired RPM, and the yellow line shows when the motor was on.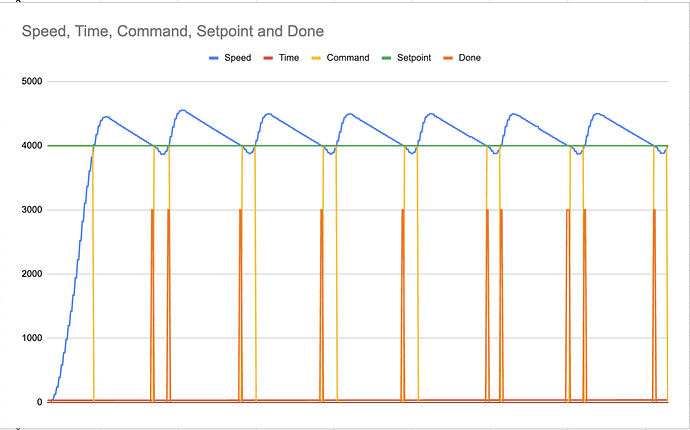 You can see that the speed continues to decrease even after the motor turns on, and also continues to increase after the motor turns off. The graph only makes sense to me if I shift that blue RPM line over to the left.
We believe that the measured RPM is averaging over a past period of time (documentation suggests 100ms), and so the controls are not responsive. By the time the integrated encoder measures that the flywheel is at the correct RPM it is in reality at a much higher RPM.
We've added an external encoder and have our bang-bang control working well now. Is there any advice on how to get the integrated Talon FX encoder to give us a more up-to-date RPM measurement? We're aware that we can run a PID on the Talon FX itself - but we're curious about why this happened and how we can fix it!