We are going to use some of our filament to print a community outreach bot. Also something to use the CIMs for as everything seems to be going NEO. The robot will also be a test platform to try things out. Heck the whole design method is an experiment. Here are some details.
The robot body will be an octagonal Pyramid With the top cut off the bottom diameter about 26-28 in with an about 1 in TPU bumper (its not going to run into other robots just maybe an occasional wall due to operator error.) The Top will Be about 12 in in diameter the body will be about 4 foot tall - on top there will be an about 1 foot Viking head with helmet etc. The construction will be 3DP with Styrofoam reinforce/wrapped into Fiberglass. So there is an experiment with a composite robot. The drive base is designed to take multiple drive options so we can experiment here is the plastic frame (picture of the cad we just started printing on only 1 printer so it will take a couple of days to complete as the other printers are getting some TLC currently

So this frame is 660 mm diameter. The big hole that looks like an Arrow will get 3/4 in Styrofoam the others are for the wheels and gearbox assemblies The first drive will be very simple Center drive tank so the 2 outside wheel bays in the center will get the wheels with motor then you have a front and rear wheel that will be omni with a skid plate on the side in case the robot spins and the omni would hit a lets say 1 in something sideways . We opted for this setup to allow easy turning in very tight spots so the robot can do a 360 without leaving its body perimeter. You can see the drive could also be configured with X drive or even some steering. maybe even a swerve. This bottom part will also hold the battery and some of the electronics.
The top level will have 2 motors that power the arms and one that turns the head. All in all we are shooting for a humanoid looking robot. Electronically we probably start with a cheap RC unit and some home cooked electronics. Maybe later we go stick a PI in it or if FIRST chucks the roborio one of those.
Well we cant print a 660x660 frame so we had to cut it in 4 and have to print 4 pieces each is an about 10 hour print and we are trying to do it in ABS this time.
As we move along files are here
https://grabcad.com/library/frc1989-community_bot-1
So feel free to make one too. Of course the bot as it is a viking - will carry a shield that will look something like this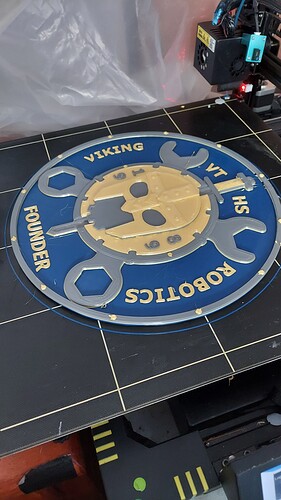 Only as big as will fit on the printer.
Comments welcome