How did your team scout? (Paper, electronic, etc)
4020 uses Google Forms. Scouts fill them out on their cell phones. The team always has some extra battery packs for USB charging so scouts are sure to have enough power for their phones. We put in a significant effort to design the form to flow well on a cell phone during a match. We don't want scouts having to scroll much, if at all.
What was the main data you looked for/found most important? (Cargo, climb, etc)
Deep Space was a great game for scouting since robot actions translated directly into points (unlike, say, Power Up, where count of cubes placed was not directly related to score).
We found value in recording everything that related to scoring - hab exit, sandstorm placement of hatch and cargo, "teleop" placement of hatch and cargo, and climb level. Rather than tally each rocket placement by level, we simply had one question asking what was the highest rocket level attained in the round for hatch and for cargo. We also recorded qualitative assessments of defense ability and time, penalties, and we have a free-form comments field which is often quite helpful.
Did you change your scouting at all throughout the season?
We made some slight changes to Google Form question wording for clarity and question organization for screen flow after our first regional based on feedback from scouts. We did not make further changes between our second regional and Worlds.
What program did you use to take in and look at your data? (Google sheets, excel, Tableau, etc)
Google Forms automatically saves to a Google Sheet. We use Tableau to read from the Google Sheet and deliver interactive visualizations. This system works well for us. The biggest pain is needing to tether computers in the pit or stands to cell phones to get the data from the cloud.
How did you use this data to make a pick list for alliance selections?
We make very significant use of the scouting data for qualification and elimination match strategy in addition to elimination alliance selection. For me, the value of scouting is 80% match strategy / 20% alliance selection. As an example, here is our scouting data for our last quals match at Smoky Mountains. The first graphic is for our teammates.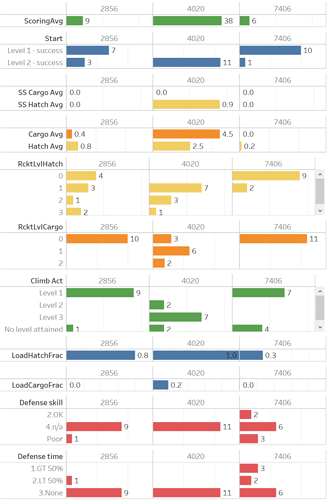 This lets us understand the capability of our alliance. We can see that we'll probably want us and 2856 to start on level 2. We will prioritize our best sandstorm placement location since our teammates haven't demonstrated sandstorm capability. It looks like 2856 should focus on rocket hatches in teleop, for which they have demonstrated up to level 3 placement. We will focus on cargo. 7406 has played some defense and their likely most valuable role will either be defense or counter-defense depending on the opponent alliance capability/strategy. We will take the level 3 climb, since neither teammate has that capability.
Our opponent alliance looked like this.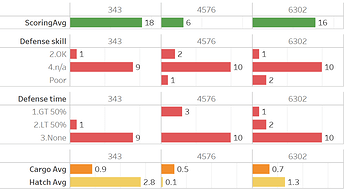 For Deep Space, the only thing we really have to worry about regarding the offense capability of the opponent alliance is the total score each bot might be capable of. It doesn't matter much if they score in rockets or the cargo ship. It matters a tiny bit if they are better at hatches or cargo in case we need to plan defense for choking off the cargo ship or choking off a hatch loading station.
What does matter is defense. If opponents play defense we need to have a strategy to deal with it. In this case, it looks like 4576 has a reasonable chance to play defense. Since the other two opponents are averaging a total score of 32 and we average 38 plus contributions from our teammates, the only strategy that would likely yield a win for the opponents is for 4576 to play defense on us and hope it is effective. Thus, our alliance strategy going in to the round is to expect defense and to plan for 7406 to play counter-defense and give us space to operate. If the opponents do not play defense, 7406 will play defense and prioritize 343, looking to make it difficult for them to get in and out of the hatch loading area.
If you watch match video on TBA, you will see that the round played out pretty much like the scouting data suggested that it would. 7406 did a great job of counter-defense and was critical in the round win. Without the scouting data, preparing an effective strategy for matches would be much less likely to be possible.
For alliance selection, we just print out a table of the main scoring categories. For 2019, total points was most important for sorting. We wanted to know hatch vs. cargo capability to maximize point potential of the alliance. We wanted to know hab exit capability to make sure we had two level 2 exits. We also wanted to know climb capability to try to end up with a level 3 and two level 2 climbs (I don't recall multiple level 3 capability at the regionals we attended).
Our captain takes that sheet into alliance selection, but is on the phone with one or two team members in the pit who are looking at the more detailed Tableau analytics and can see comments, scoring trends, and more. Those people work together to prioritize primarily the 2nd pick based on the combined capabilities of the first two picks. The first pick is often pre-arranged or down to maybe just a few options which are pre-prioritized.
For us, in 2019, the first pick was mostly about raw point scoring ability, regardless of how it was accomplished. We could flex to cargo or hatches as needed. We could flex to rocket or cargo ship as needed. We could flex to level 3 or level 2 climb as needed.
By the time we got around to the 2nd pick, the key capability of teams in that rank range was successful cargo cycles into the cargo ship or rocket level 1. Ability to climb to level 2 was also important, but only if the difference in low cargo was less than 3 points. If one of the best defensive bots was still available, we could swap to that pick strategy, but our primary goal was to be able to outscore because we had three strong scorers and defense, if played, could not stop all of them.