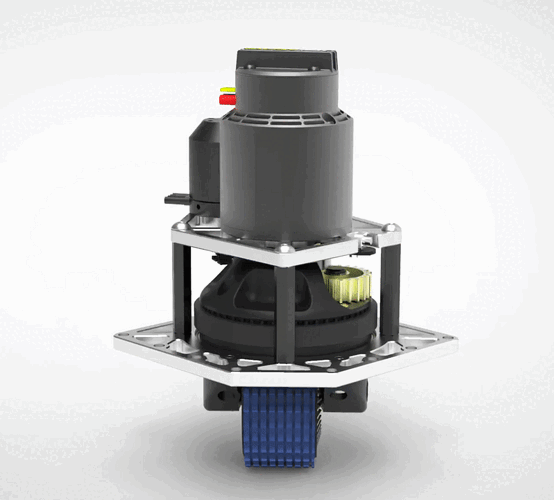 Now that my classes have been moved online, I have had some spare time, so I started designing a new swerve module. My goals of this design were to make it as light and small as possible, while still being manufacturable within my team's means. This design is not completely original; I based my azimuth off 2471's "Hermes" module. The main differences between the azimuth of my design and 2471's is the integrated Lamprey encoder, larger drive motor reduction, and minor hardware changes. These design changes resulted in an entirely different upper design while the lower (legs & wheel) remained the same.
Module Specs:
Drive speed: 13.9 ft/s (free speed)
Drive Reduction: 6 .00: 1
Steering Reduction: 29.94: 1
Estimated Weight: 3.35 lbs. (That's over 1 lb lighter than my last design!)
3" ID x 3.5" OD Bearing
Size: 5.16" x 5.16" (4.5"x4.5" excluding the 44T gear) wide x 7.7" tall
Chassis Integration:
This module bolts into the chassis from below similar to 2910's MK2 module. To make the module relatively smaller I could have made the module part of the chassis, like 2471's original design. I decided not to do this because I presume that removing the module from the chassis is easier and it won't decrease the chassis stiffness. However, this is something I am considering changing in the future.
Future Changes:
As stated above I am consider changing how the module integrates into the chassis. I have no idea how 2471's 3D printed wheel design holds up, so I am considering redesigning it with tread that threads onto the wheel instead (my team had success with this on our previous swerve design). Additionally, I want to try to integrating REV's Ultraplanetary into the design for steering. This would remove the 44T gear that sticks out of the module and would make the design symmetric, however, I'm not sure if it's worth the additional weight. Also, there are some minor changes to the design that could reduce the weight even more.
Overall, I am very happy with this design. It has a very small footprint, the motors don't stick up very high so a motor guard might not be necessary, the projected weight is relatively low, and it's simple to manufacture.
CAD: Within a few days I'll finalize the CAD post the link to the model.