Way back in February, soon after the build season ended, I ordered a Omio X8-2200L USB router after the glowing recommendations from people in the community. I have many ideas for projects and products to make and sell, and I figured it would be great to use during FRC season as well (my current team has 0 access to machine tools at the moment) and to familiarize myself so I can help other owners with any problems they may encounter with the machine.
Soon after I placed my order COVID-19 really began to hit and delayed shipping throughout the world, including the router I just ordered. My original plan was to use it throughout competition season for spare parts and start working on my own projects afterwards. Well, that didn't quite work out as planned.
This week the first of the two boxes finally arrived! After assembling what I could with the top half I decided to design and fabricate a dedicated cart with power, guarding, and tool and stock storage until the other half arrived.
This is what I came up with: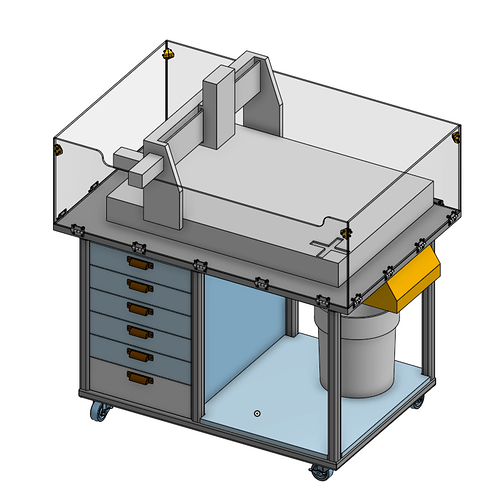 Because so many people have this machine, and it can very easily be modified to suit various sizes of CNC routers I figured I'd share my design with the community as it would at least be a good starting place for those interested in making a nice, relatively mobile and robust cart. Below is the CAD with a mostly filled out BOM.
https://cad.onshape.com/documents/1140f24fc9ad85c556fcba58/w/68a0e246e4850341ee732617/e/cf3076ab44fcbda6c4b132e5
Manufacturing requirements for this specific design include:
Cutting and Drilling steel
Welding
Linear and Dado cutting of plywood
Optional: 3D printing (guard magnet mounts)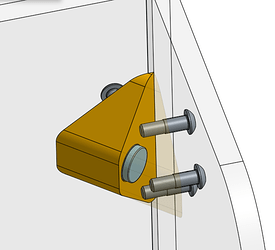 I made the frame and top shelf a composite part mostly because my dad currently has a lot of extra tubing I'm planning to use for this and loads of scrap plywood from various jobs. In hindsight I should've itemized them out individually so the BOM was more complete, but it's easy enough to figure out the lengths.
A huge shout-out to my dad who gave invaluable feedback into the design to make it significantly more simple, cheaper, and easier to manufacture, as well as my sister who came up with some really creative solutions to a few of the problems I ran into.
As I begin to build this I will post some pictures and a few sentences about the progress and issues I ran into. Please feel free to copy the design to make your own and to give any feedback on the design.