Here is a pic and gif of the 42:1 climber gearbox 1 there will be a 2nd one that is 22:1ish that hopefully will do the moving from rung to rung in concert with the 42:1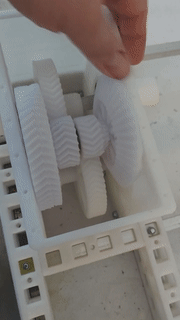 Missing is the motor with the input Bevel.
This base frame as in the pic but with the 2 climber gearboxes populated and without motors is 16.6 lb that is with steel tubing on the outside(and of course excluding battery.
There will be <30lb in motots makes it 47 plus 16 lb in wheels with the gearboxes inside of them is 63, 9lb for the shooter makes 72 and <20 lb in aluminum (am pretty much out of steel) and fasteners and bearings for the climber makes 92. Leaves 33 lb for an electronics board and wiring lol. So seems it will come in well under weight.
I finally got the right bolts in so

So the whole thing can be assembled with an 8mm nut driver or wrench and a
2
phillips. There will be some
6
wood screws that thread themselves into the plastic to hold covers in place and keep axle shafts from sliding out. And those will be phillips too (ideally
1
it think.
My next big investment will be a drill press >= 9in as that would make drilling the holes much easier for now I use

A drill guide contraption like this the bottom has a 3DP grid into which I insert adapters that align it with squares and hex holes on the frame. Less than ideal when shooting for accuracy but better than eyeballing it. So some holes needed some post processing to get things to line up rignt