Ah. That explains why Gail Alpert just passed me at 88 MPH. Heading for Detroit, in a DeLorean.
Yeah, if FIM doesn't have at least 25 events getting teams their minimum plays is nightmare.
I am wondering Calvin and Lakeview 1 and 2 are not on the list. Add them and you get 25
There will be no Lakeview this year. We hosted two last year so we are still averaging one per year, which is nice.
Looking forward to new events to take our place.
Hence Gail's sense of urgency, and the need for a flux capacitor.
Brooklyn?? Is that taking place of the Spring Arbor/Jackson event Week 1??
They just changed the event to "Jackson @ Columbia" so that's a yes.
FIM events are up on frc-events now and seem to be staying static.
FIM's website still says events are TBD, and FIM events on first inspires seem to be listed with a random team capacity between 0 and 22 so I would take them with a giant grain of salt. I don't have any knowledge of what's happening , but I'm waiting until Gail or the FTAs say they're final before I believe anything.
Those events are accurate to the best of my knowledge at this time. We welcome the new events at Lake City, CMU, and nearby Battle Creek Central High School.
First in Michigan site has been updated (you may need to push refresh to get the latest).
5 weekends of 5 events each. Fun times!
That's awesome! Even closer to home now! Woohoo!! Thank you for the update!
No Calvin University event for 2024.
The Berrien Springs event venue looks very good.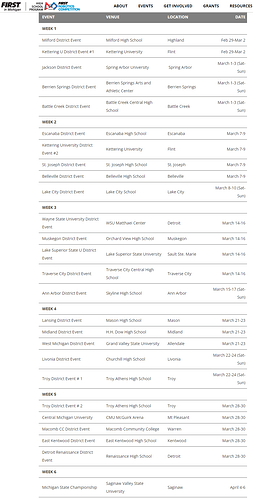 I've always thought about this, imagine if Michigan State University hosted Michigan State Championship. It seems fitting
Not enough room in the Breslin to do it.
BOOOO. We should do it at Crisler.
GO BLUE!
Oh, I agree. I'm a UofM fan
, but it's just fitting with the name

Hmmm… They're showing the Jackson Event at Spring Arbor. I hope that's not the case. I didn't care for that venue last year, and not just because I had to drive my truck in 4x4 the whole way in… I'd like to see how it goes at Columbia HS in Brooklyn…
And no Saline event… That's a bummer. That's a GREAT venue!
SAU is specifically not hosting this year. That event is now at Columbia HS as you described.
Yes, the FiM website is now updated to show Columbia HS for the Jackson FRC event.