Hello there!
Alrighty so, I'm working on a college-level project for a mining robot. We are using the FRC RoboRIO to work as the hub for almost all of the information on the Robot itself, save the obstacle and distancing sensing cameras that are connected to a Raspberry Pi 4B.
What I want to do is be able to control the robot from a computer connected to a Router whose wifi signal is connected to the Raspberry Pi 4B, which in turn is connected to the RoboRIO via ethernet cable. Please see the below image if there is any confusion.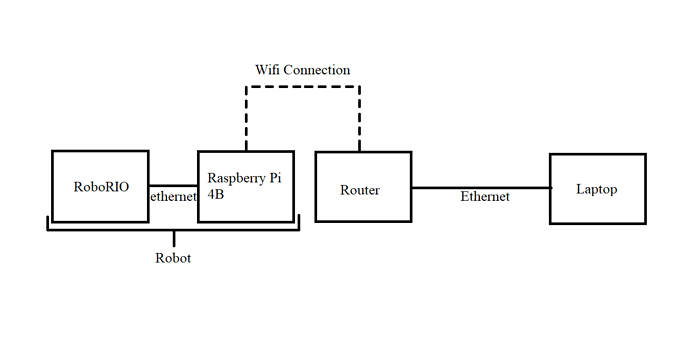 My dream would be able to write an executable front panel of a LabVIEW VI that can send signals over Wi-Fi to the RoboRIO, which can, in turn, send signals back to be viewed, as one does in FRC with the dashboard.
My Team and I have several ideas that we have begun testing (see side note below), however, we have limited time to test and I'd love to hear if anyone has any ideas or things I should look into. We are using LabVIEW on the RoboRIO and Python on the Raspberry Pi. I am personally fluent in LabVIEW, and we have someone on the team fluent in python + several other languages.
Please let me know if you have any questions for me.
Sidenote:
Using TCP, we have been able to send a signal in labVIEW code running on the RoboRIO to a python server running on the RPi who then sends a signal back. (The signal in question was to subtract three from whatever number we sent. from the LabVIEW end, Send 1000, recieved 997, then 994 etc.) That was fun but due to our inexperience took longer than it should and does not appear to be exactly what we wish to use from my perspective.