First of all… it has been dubbed by Michelle236 as a "CRAB HET"
And of course mine is better… no matter what this stupid poll says.
I don't nkow how to edit Thread Titles.
It's a crab hat for now, but you and I know that deep inside it's a Crab Het.
Corey, I mean Tom, No Corey, I mean Tom, NO no no Corey is the man… No wait… Tom has helped me more… Tom is the man… no wait I cant do that I have to work with Corey all season… No wait… If I want help in programming I have to vote for Tom… But then Corey will get pissed and kick me off the drive team… so I have to vote for Corey… but wait… if i do that Tom will get pissed and not help me with programming anymore… argghhh this is just one of those situations where you have to vote for yourself whether you have a Creb hat, punk hat, or none because either way you're scrood.
I make one typo, and they'll never let me live it down.
I think the only way to settle this is to have both hats make an appearance at UTC.

mind adding Nationals to that?
can i add Cliff's PIMP hat?
cause that is way cooler then Tom's or Corey's hat.
so i vote for Cliff's PIMP hat.
What does the PIMP hat look like?
You realize that Corey actually wears that crab hat to school on a regular basis…
and if you want hats the true champ is Big Mike in one of the volcano hats
see below
WC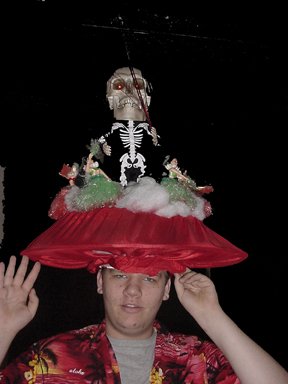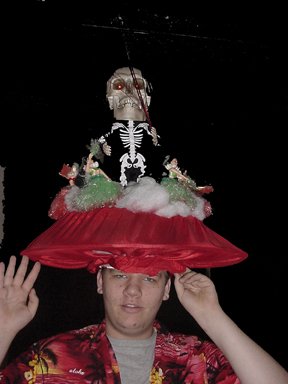 Wonder if Billfred will use any of these for his CD Caption Contest…
…Oh BILLYFREEEED…

everyone on the team is just jealous that i can pull off the 30lb hat and no one else could

wow. that is way too amusing for me to be seeing this late at night. it might have an impact on my brain.

hmmm. tough choice. Tom's hat is pretty awesome, but then again, Corey totally knows how to rock the crab hat. hmmmmmmmmmmm. which one to choose.
i don't think that is the best pic but it is the one on the left with the orange fuzzy top hat that is PIMP.